14 05 2019 > 19 05 2019
Antwerpen > Djibouti
Gino asked me to be his copilot for the ferry flight of Cessna 182 from EBAW to Djibouti.
I didn't hesitate and accepted even the short notice !
I am back in Africa !!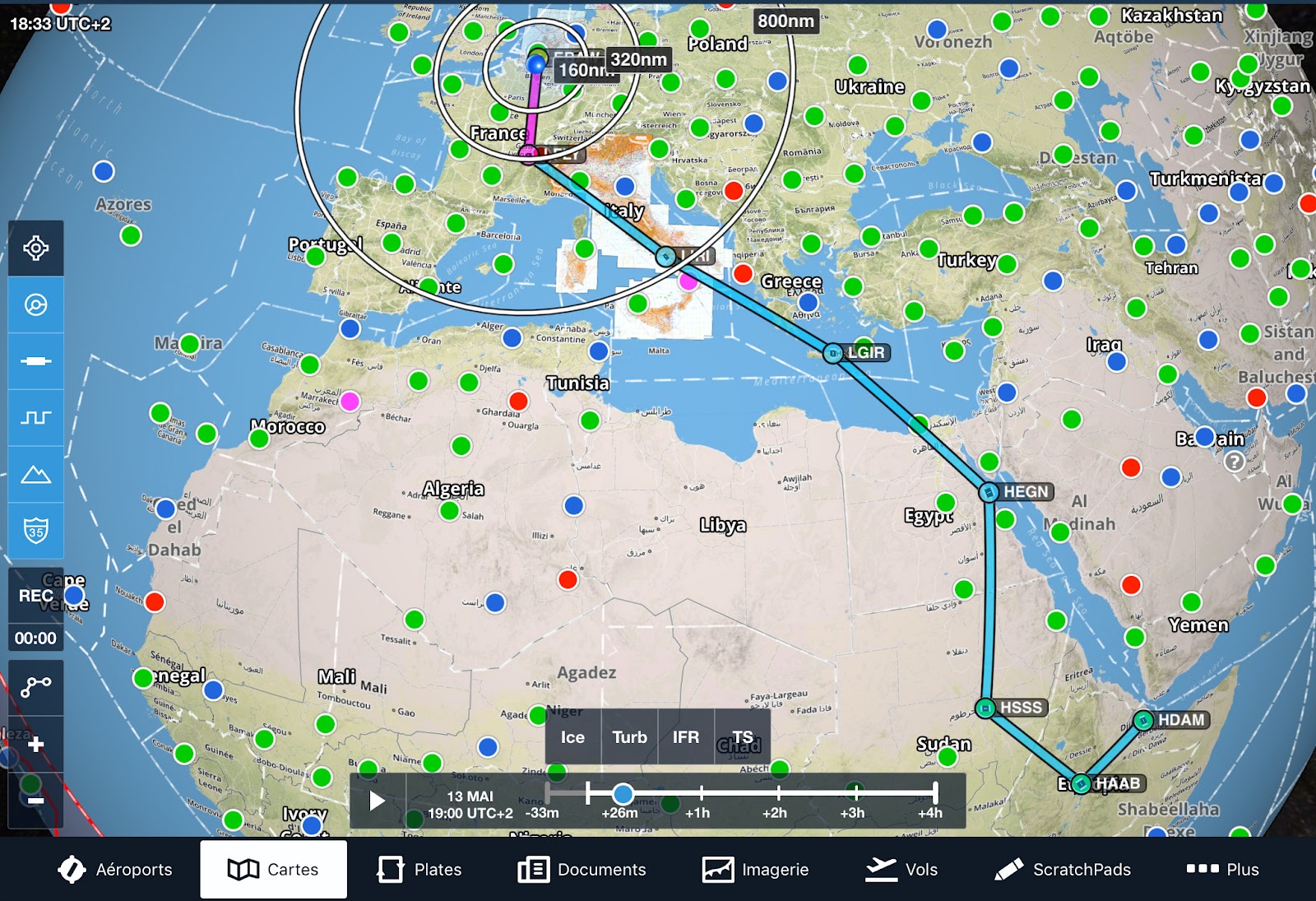 Dawn Patrol
by Lady Bush Pilot
Our day off at Khartoum gave us a smell of prison.
We had received a letter from the hotel telling us all the things we can not do because of Ramadan.
Is included: not eating nor drinking out of our bedroom.
Nothing can be visited at Khartoum, we've been stucked inside for one day.
We visited the hotel from the basement to the 18th floor just to walk a bit.
Unless that we studied deeply and carefully the weather for the next days.
The weather at destination: Djibouti was not beautiful but the best day was the next one otherwise we need to wait the next weekend… and I must go back to Belgium !
Finally we decided to try to be airborne before sun rise at the Dawn Patrol time !
Schedule:
wake up: 02:30,
Weather briefing: 03:00,
Pick up time: 03:30,
Arriving at airport: 04:00,
Departure: 05:00 before sun rise.
Lining up on the dark runway I saw a dog running just before we put full power !
Once the dog gone we took off under the warm orange light of the sun slowly rising up from the horizon.
The landscape was beautiful with the river Nile, its green borders and the pink sand a bit forward.
We were heading Ethiopia and at the border we canceled our ifr plan in order to cross Ethiopia vfr at FL 135 (ifr route was at minimum FL 170 that means icing and we were not sure to reach that altitude with our heavy plane).
Overflying Ethiopia was very surprising by the variations of the sceneries.
Some deep canyons and between them some very high uplands with small villages ! How can people live there ? How can they find water ?
I understand much better why Ethiopians are so good in athleticism.
Since the border and our climb to FL135, we were helped by some oxygen in our nose, another first experience for me ! And I loved it! not tired anymore, just feeling very well !
Our routine between Gino and I has been established now: I take care of the turtle pack, and all my copilot duties, Gino is managing Garmin 1000 like the pro he is !
This exceptional flight is THE flight of the trip.
We overflew Mekele airfield and we wanted to make a direct to Djibouti in order to reach destination before the storms and cbs.
But Addis air controler insisted for us to leave Ethiopian FIR via a point that gives us 40 minutes a flight supplemental.
And we saw the clouds building up already at Djibouti…
I felt Gino worried about it and he said:" we are not arrived yet", he even imagine to divert to another airfield in Ethiopia.
But we decided to continue as we still have 2 hours of fuel and Gino knows the area very well, we can orbit for half an hour if needed before landing…
We descended below the clouds at 2000 ft flying like I like, vfr, manuel approach. (I kept the oxygen to stay high ????)
We finally didn't wait and landed directly runway 09.
We were expected by the local television and 2 fire brigade trucks for a very warm welcome !
Interviews, pictures and some more pictures, we had the feeling to be local starts.
In Conclusion:
I met a great pilot: Gino one week ago (thank you Danny) and we flew 36 hours and reached Djibouti, I think we are a good team together !
I experienced many first time and learned a lot !
I flew in Egypt, Sudan and Ethiopia, the 3 countries I couldn't fly during my Flap 2 !
I met many interesting people and have many new projects.
Back in Africa
by Lady Bush Pilot
The flight from Athens to Sitia was very nice overflying the Cyclades islands and approaching Africa, I was getting very excited !
At Sitia we had to ask the customs to come in order to export the plane out of Europe.
They came and very surprisingly they made it very fast !
We took off again destination: Hurghada in Egypt next the red sea.
That was a long flight above the Mediterranean sea from Creta to Egypt.
Reaching the north african coast, I really get excited to be back in Africa.
We flew to Hurghada crossing the Nile river and its green sides several times.
We landed just before sunset at Hurghada where we didn't receive a good welcome and where we were parked in a very touristic low class hotel named Hilton but it was just the name !
Hurgada is a kind of Disney land fake town made for tourists. But the red sea is just awesome !
We woke up very early to reach the aeroport and wait for the fuel.
Fuel came in barrels and after all a procedure we took off heading Khartoum in Sudan.
We flew 800 NM, that's my longest distance flown.
It is my first time in Egypt as well !
The sceneries were not very different from one hour to the next one: sand, sand and more sand and sometimes: the Nile river.
We had some very philosophical conversation during the long flight confirming us that we are not suffering from hypoxia.
About hypoxia, as it is my first experiences at these high altitude, I must say that after we reached FL 110, I couldn't stay awake and I slept a while to get used to the altitude just like yesterday… good to know the reaction of my body for the next time I will fly high !
Temperature at destination: 44 degrees C.
We are lucky, yesterday was 50 degrees!
But it is a dry air and I like it !
After refuelling from barrels and some paper work we joined the hotel crossing an empty city with a lot of military tanks every 400 meters.
Ramadan doesn't help travellers I already had an experience of it in Mombasa last year !
The hotel is much better than the previous (not difficult) and we had a good night sleep.
The weather is not excellent in Ethiopia.
We are resting today.
Hopefully we will take off tomorrow at sunrise heading Djibouti in a VFR flight plan that is already accepted by the air controler.
Stay tuned !
Flight Level 110
by Lady Bush Pilot
Yesterday morning we took off from Salerno heading Creta.
Unluckily, the ice on the wings, the storms and the heavy rain made us deciding to divert to Reggio Calabria just in front of Sicilia, a very nice place when the sun is shining.
We decided to take off very early but the icing conditions were still active at our FL, we postpone our departure and changed our destination to Athens.
And we had an excellent flight ! I am getting used to Garmin 1000, Gino and I start to know each other better and we are more and more familiar with the plane…
I am getting used to these high altitude during 3-4 hours… nobody used the oxygen yet, we are checking from time to time if none of us is getting blue????
We overflew a lot of water in a cool blue sky and the clouds appeared when reaching the Grec's coast line.
Peloponnese is beautiful when we could see below.
Icing appears again and we descended until destination…
It is the first time that I am not cold since our departure from ANTWERPEN.
Looking forward reaching Africa !
Stay tuned.
Bad weather flight
by Lady Bush Pilot
We took off this morning from Lyon Bron with a clear bleu sky and some wind from the North.
We followed the Rhône and France offered us some beautiful sceneries.
We overflew my apartment at Mollans sur Ouveze and the Mont Ventoux!
Reaching Corsica, we avoided some big clouds gently.
And we start seeing a fully sky of clouds.
Half of the 05:36 flight was in bad weather with rain, big bumps, icing, turbulences and lightening… i couldn't believe my eyes.
I have plenty confidence in Gino but I am very far away from my low level flights in Africa !
Here are IFR flights in bad weather but of course with an excellent machine and pilots !
Gino and I are making a good team checking from time to time our colour lips just to be sure we are not in hypoxia…
We have oxygen with us and oxygen mask ready to be used.
We were expecting a better weather in south Italy…
I am happy that I learn a lot from these flights.
Tomorrow: Sitia in Creta !
Stay tunned
How many first times ?
by Lady Bush Pilot
First flight in CT182T;
First time IFR flight at FL 90;
First flight with Gino;
First trip departure from EBAW;
First flight with rescue boat;
First flight with this glass cockpit;
…
As you understand, today was the discovery day !
First, the plane: completely different, not a taildragger, not a vintage aircraft, more a 5 stars aircraft, very comfortable but I really need some more hours to get use to her.
Flying 3 hours at FL 90…. still need some more hours to get use to it, I find it tiresome.
Gino is great, we have a lot of fun together and that's the most important !
Tomorrow, I will do my best to understand more how this glass cockpit works and will try to use it !
We landed at Lyon-Bron with a gusty head wind of 30 kt ! Can't imagine it with a PA18!
We were starving but the restaurant of the hotel opens only at 7 pm, we decided to eat something at the nice restaurant next side of the street: Mc Donald… Lyon, capital of the gastronomy… I wish tonight will be better !
Tomorrow: Salerno (LIRI).
I feel tired after this first day but Africa is calling me and I am very glad to fly with Gino to Djibouti…