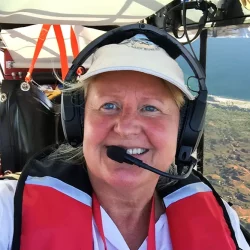 aka "Lady Bush Pilot" since 2015
For as long as I can remember my passion has always been to travel and especially to have the freedom to do so by flying my own aircraft. When I am not travelling or flying my other enjoyment is with riding my horse.
After qualifying with a Master Degree in Psychology I later worked in the real estate business since 1997.
My life changed in 2012 when my desire to fly became a reality as I gained my Private Pilots Licence. In 2015 I visited Alaska to advance my PPL rating where my flying 'bug' became strong. I qualified with a tail wheel endorsement and sea plane rating, and became a 'Lady Bush Pilot'.
I have had the privilege to fly in many countries and completed a solo pilot African tour with my own Piper Super Cub.
"Since she was a teenager Valérie Dereymaeker had a dream. A dream of freedom; complete freedom. She has always, relentlessly, put all her efforts, work and energy towards that goal hoping to achieve it.

Ten years ago, at the time she was already a successful self-made entrepreneur, she wanted to become a pilot. I was not surprised by that decision as fearless and curious as she is it perfectly fit her character and ambitions."
She went through an intensive and complex training, including lots of theory and practice for a long period of time before she was able to be the Lady Bush Pilot we know today.

Every week, as she was training and gathering more skills in her new profession, I never heard her complain or be on the verge of quitting. Instead, she was always enthusiastic and amazed by this experience and was eager to learn more.

After being a confirmed pilot, she flew around Europe and discovered many countries and cultures as well as lived experiences that we could not even begin to imagine but as you can guess, that was not enough for this ambitious pilot.

She then decided, after thousands of hours of preparation, to get back in her plane and go in a new adventure in Africa to become a real bush pilot. She landed in beautiful villages and cities unknown to most of all, made new connection with amazing people, tasted the most delicious foods and saw the most breathtaking landscapes.

This amazing adventure, if you ask her can be resumed in one word, her dream: freedom. Now that she has lived and experience her dream by completing the Tour of Africa and became a true bush pilot, you can imagine that, ambitious as she is, the Tour of the world seems very much like the next step.

Me, being her godson, she has taught me many things about life, helped me in the most critical situations and inspired me in many ways. I will be forever grateful for the opportunity to have such a person as Valérie to be watching over me and help me achieve my dreams as she has completed hers. I hope I will one day be able to repay her for everything she did for me, but in the meantime, I will congratulate her for these great trips she has already completed and cheer for the next ones to come as it is only the beginning of the adventures of Lady Bush Pilot!
Read full testimonial …
Ma rencontre avec Lady Bush :
En ouvrant ma boîte mail un beau jour d'hiver en 2018, je découvrais en quelques lignes les péripéties d'une pilote qui après avoir survolé l'est et le sud de l'Afrique, était bloquée depuis plusieurs semaines par les éléments en Guinée équatoriale.
Je ne sais comment elle a eu mes coordonnées mais suite à sa demande, je me fis un devoir de l'aider à sortir du « trou à pluie » dans lequel elle s'était plantée.

Il faut savoir que ce trou à intempéries s'appelle le « Pot-au-noir » ou en d'autres termes le « FIT alias le Front Inter Tropical » qui à cette époque de l'année s'amuse à arroser abondamment pendant plusieurs semaines toutes les régions équatoriales du globe.

Ce fut un plaisir pour moi de l'aider à trouver une fenêtre météorologique favorable pour reprendre le cours de son aventure vers le nord-ouest de l'Afrique et le sud de l'Europe.

Quelques semaines plus tard , les éléments décidèrent enfin de se calmer sur mon ordinateur et surtout autour du Golfe de Guinée, et voilà notre Lady Bush décollant un beau matin en direction du Mont Cameroun pour rejoindre quelques jours plus tard , en longeant la côte, le sud du Nigéria malgré une visibilité parfois médiocre ce qui n'est vraiment pas inhabituel dans ces régions intertropicales.

La suite des vols vers le nord devenait relativement simple car elle s'éloignait de plus en plus des intempéries équatoriales et rejoignait les régions météorologiques nettement plus calmes et surtout agréables à survoler sous la protection des alizés et surtout de l'anticyclone des Canaries souvent présent en hiver sur l'ouest du Maghreb.

Bref pour son arrivée en Europe, nous (Dame météo et moi-même) avons encore pu lui concocter d'agréables situations anticycloniques qui pour un météorologue européen retraité, n'ont plus beaucoup de secret …
Read full testimonial …
Dráždím takhle v podvečer Brousse, run-up test, a slyším v rádiu ženský hlas co chce poradit na přiblížení, za chvíli přistává neuvěřitelná Lady Bush Pilot na svém vytuněném PA-18. Ihned volám na věž, přejíždím na druhou stranu letiště a parkuju vedle nádherného Piper Super Cub. Vylézá milá dáma a hned si padneme do oka, naše éra jsou oba taildragger. Následující dny si předáváme informace, zkušenosti a přátele. Díky Valerie!
Valérie Dereymaeker est une véritable Entrepreneuse !
Professionnelle de l'immobilier, elle évolue dans cet univers depuis 20 ans et a su s'imposer dans un environnement très compétitif. Enthousiaste et énergique elle aime relever de nouveaux défis.

En 2012 elle s'est lancé dans une nouvelle aventure ; l'aviation. Grâce à un sens aigu de l'organisation, le goût du détail et beaucoup de rigueur, elle développe divers projets aériens passionnants qui méritent l'attention...
Valérie is a surprising person… This blond, not very tall Lady Bush Pilot, is a great organizer. 
When you join one of her rallys, you can be sure you won't forget it!
She knows how to choose beautiful places like the Mont-Saint Michel, Minorca … and much more.
Everything is carefully planned and very well structured in small groups, so that you can enjoy the genuine aviation atmosphere of small aircrafts.  She pays attention to everyone making sure that everything goes well and she's not the kind of person letting you down, if any unexpected situation comes out.  And last but not least: lots of fun guaranteed! And that's the most important.
Read full testimonial …
Valérie is one of the more enthusiast, generous and energetic person I know. Flying is really her passion and she has mastered all obstacles to become a pilot, going as far as Alaska to improve her formation. Now, she wants to share her passion with others. As a skillful organizer, she is really the one able to coordinate the most memorable aerial journeys!
Avant de devenir Lady Bush, elle avait déjà des ailes dans le dos...
Donc je ne suis pas étonnée de la voir monter si haut, à l'endroit où elle se sent le mieux: au dessus de la mêlée... Son enthousiasme a été parfois diversifié, fugace, momentané mais il a toujours été contagieux. Un virus bienfaiteur qu'elle disperse autour d'elle, aujourd'hui au tour "d'ailes".
Bon vol Valérie!
First time I met Valerie was when she came to Israel for a short visit.
Next time I met her when she was stuck with her Piper Super Cub in Turkey, because of engine problems and bad weather. I took a commercial flight to Istanbul in order to join her and help with her great adventure. We had great and challenging days flying from Turkey to Paphos-Cyprus, were we had to leave the Piper for repair, due to a major engine problem.
About 2 or 3 month later, I was waiting at Haifa airport in Israel to see Valerie landing and welcome her on her flight from Paphos.

We had beautiful few days flying together in Israel. During these days she fulfilled one of her big dreams, flying at the lowest place on earth. Her dream was realized when we made a touch and go approach at a small airfield, by the Dead Sea, while the altimeter showed minus 1266'.

A group of devoted friends helped us to disassemble the Piper and tie it very carefully in a 40' container, which was shipped to Mombasa-Kenya, were Valerie's great adventure was about to continue.

We kept in contact during her unbelievable flight, discussing sometimes weather or runway issues.

The flight to South Africa and back to Belgium was an unbelievable adventure, that very few could ever achieve.

Lady Bush Pilot – A great adventurer,
Read full testimonial …