27 04 2019 > 05 05 2019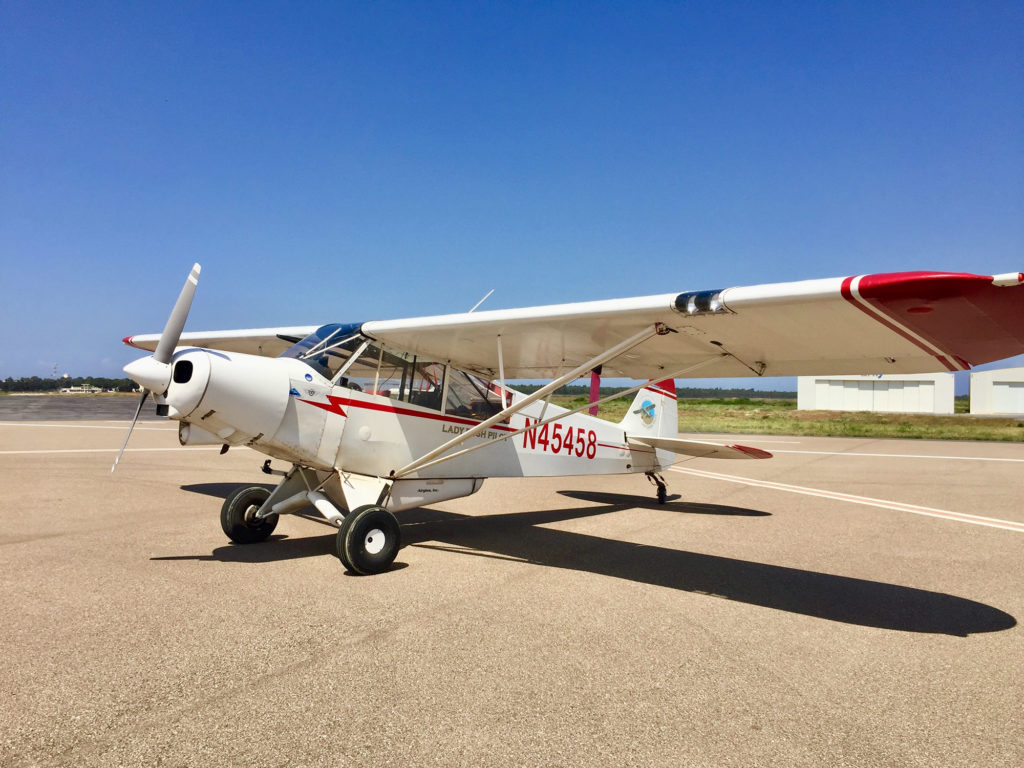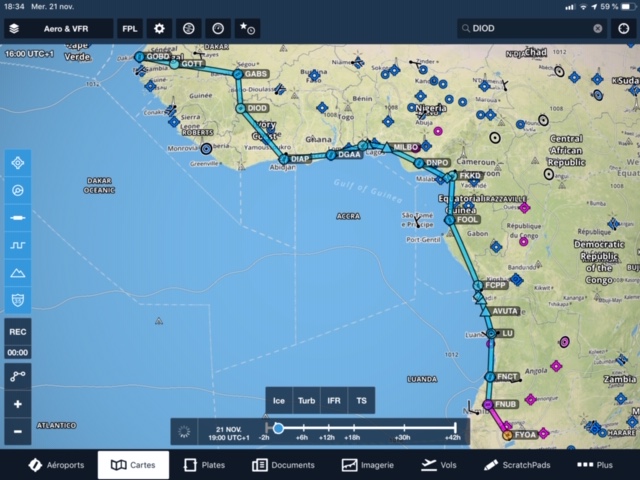 Flap7 – Back home
Flap 7 will start from Grenada to Wevelgem in Belgium.
I will meet some friends on my route.
Let's keep the fingers crossed for the weather!
Flying trip completed-back in Belgium
Flying trip completed-back in Belgium
by Lady Bush Pilot
I spent some beautiful moments South of France with my friends and took off from the lovely airfield of Nadesse where I wish to land again very soon.
The flight to Vendée Air Park was quite bumpy with a strong unstable wind but a blue sky and nice sceneries.
Unfortunately my iPhone doesn't like the cold temperatures and I couldn't take pictures during the flight…
I landed on this awesome place, a small village made for pilots ! 2 nice runways, splendid view.
Yves and Irène invited me for lunch and to spend the night.
Yves took me for a local flight to Iles d'Yeu with his ultra light, we had a lot of fun.
Yesterday morning, I took off for my last leg and eventually land in Belgium.
The first hour was very nice with a blue sky and light wind.
I would have liked to land approximately in the middle of the way between Vendée Air park and Kortrijk-Wevelgem but I noticed that many grass runways are reserved for based aircrafts, other airfields have fuel reserved for based aircrafts !
I've been quiet upset because in France the air controllers are friendly, helpful and really very nice but on the ground the airfields are much less friendly !
That's why I decided to stop at Albert Bray, a very friendly airstrip with grass runway and cheap fuel.
The second hour of the flight was much more bumpy and more and more clouds invaded the sky.
The third part of the flight was very cloudy but the ceiling was ok and the temperature dropped a bit more.
After I landed at Albert Bray, a nice Beluga followed me on the runway.
After refuelling and checked the weather, I took off for my last flight of this trip.
Some drops of rain hit me but nothing too bad, some carburettor icing but nothing too bad, and I joined the left hand downwind of runway 24 in Kortrijk-Wevelgem.
While my plane was in Africa and me in Belgium, I trained myself with Luc who taught me a lot, in Kortrijk-Wevelgem, with Steven's Piper Super Cub.
At that time, I was thinking: one day, maybe, I will land here with my plane.
I was full of doubt and it was like a unreachable dream.
But yesterday, when I saw this runway on my left, I realised suddenly: "This is it! I made it !"Some emotions invaded me slowly but I sent them away immediately: "get concentrate Valerie ! You still have some job to do here! Do not think, get concentrate !"
I made a nice landing and as soon as I vacated the runway, tears run down my cheeks… This is it ! I made it ! I am back home !
I've learned a lot during this trip, about flying, about me and about people.
Many things had changed in my life since the first day:
I stopped working with an old partner and I feel free and very happy about it.
I lost my mother, I am still sad about it.
I met many very nice people with whom I am still in contact and I am glad of that !
I know my plane much better, we are a very good team !
Now I am an aviator and I know I am made to travel.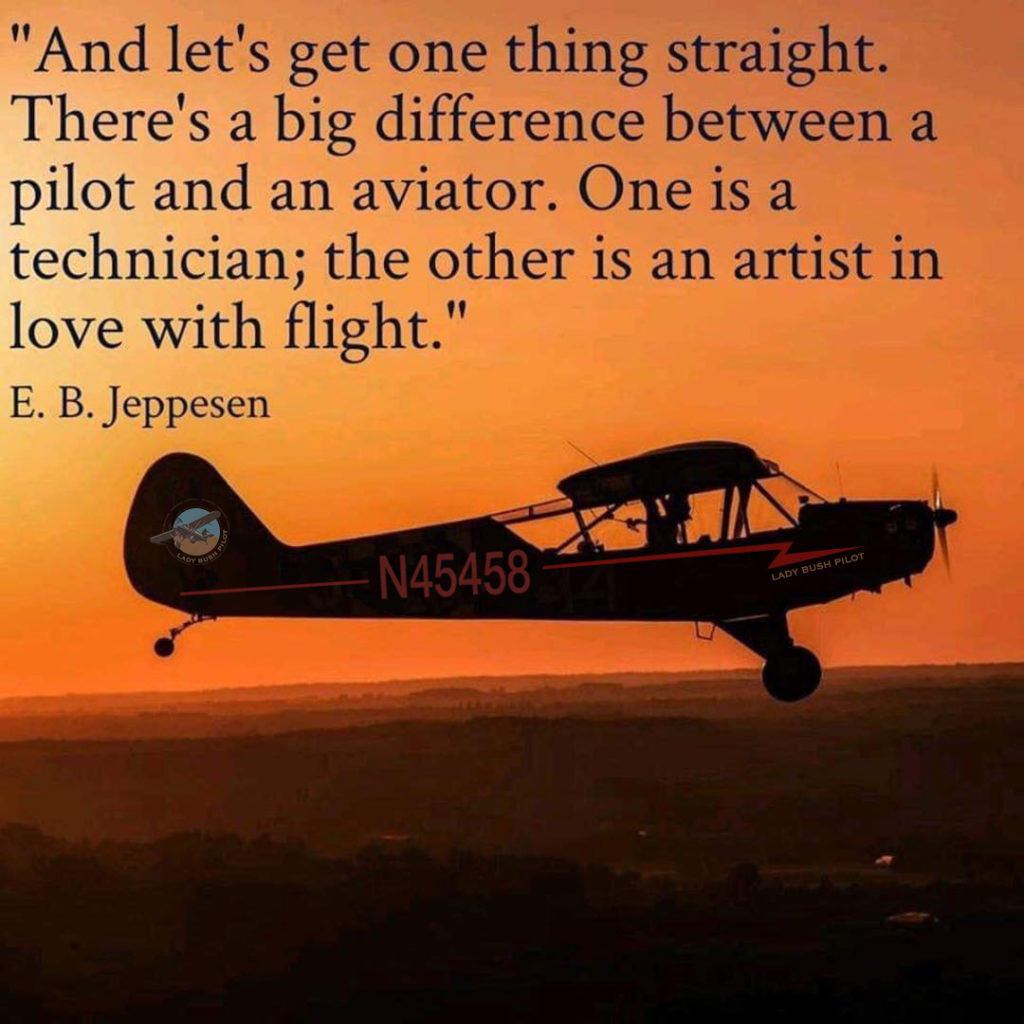 An african pilot for ever
by Lady Bush Pilot
With a new tailwheel installed by Raymond, I took off from Requena at sunrise and enjoyed the peaceful air with the morning light on the spanish mountains.
After few times, reaching the coast line, I flew "VFR on top" of fog layers from which some high elevations emerged that overlook the surrounding.
Some mountains hides small white villages but even if there is life down there, I doubt I could find a landing place in case of emergency… I am not worried about it. My plane is in a very good shape even if she needs some lifting after the long african trip.
I have no doubt that Raymond will take good care of that !
Reaching the coast line, the clouds were getting closer and I decided to dive under the layer as I must be below 1000 ft to cross Barcelona TMA a little while further.
Barcelona area was very cloudy and I had to fly at 800 ft above the water to stay clear of the clouds (15 NM east).
Suddenly the sun illuminated my cockpit leaving the heavy clouds on my left and giving me a ultra bright sky that dazzled me.
My artificial horizon is still untrustful and I kept an eye on the ball and needle, not sure sometimes to see the difference between the sky and the sea…
After turning around the Barcelona CTR, I reached the coast line of Costa Brava which offers some beautiful views of the wilderness coast line.
At that moment I received some whatsapp messages from friends wishing me a good 1st May ! I answered them sending a picture of a Costa Brava picture in flight !
Ampuriabrava is a very busy parachute jumpers place but I received a very friendly welcome by the fuel man who is the C office responsible as well !
Somebody came to me and said: I know you, I've read an article about you in Flying Hangar, I am from Zwartberg in Belgium !????
I had something to drink and eat and decided to take a nap before the second flight to my friend Jean-Maurice at Nadesse.
Lying down on the grass behind my wing is just a dream…
Suddenly I felt some eyes on me and noticed some people taking picture of LBP sleeping below her wing….
This is when you become popular !
I took off from this nice place and climbed to 4500 ft to pass the Pyrénées.
The first contact with french air controler was upsetting: he didn't know my destination and he taught my plane is a ultra light????
This 1st May is a busy day in the air and I can hear many pilots making local flight around Toulouse.
A very slow speed bumpy weather with head wind brought me to Nadesse which is a lovely gorgeous airstrip very well maintained by Jean-Maurice.
Touching the grass I was thinking: I want a place like this one ! Just THE dream !
I received a very warm friendly welcome with a nice fan club ! Nice people, we had a really awesome time that I will never forget ! Thanks to all of them !
After this nice time on the field, we went to Jean-Maurice's place and spent a splendid evening with some people from Gabon speaking about flying in Africa !
I feel to be one of them: an African pilot and I feel proud of it !
This day is a very memorable day !
Following the advices of Luc, my meteorologist, I decided to wait that some bad weather disappear and take off on Sunday.
As my friends Paul and Beatrice are living in this area now, I decided to make them a visit, enjoy their company and visit the region.
Spanish adventures
by Lady Bush Pilot
Believe me or not, flying in Africa is a dream compare to Europe.
I told many people: "I have the feeling I will have no problem in all Africa, they will arrive in Spain" I should never have said these words… because what you say happens !
We spent Raymond and I one day working on my plane in Granada: change the breaks, air filter, reconnect the heating, check the spark plugs, try to change the artificial horizon but it is too big job, clean all the aircraft, install a system to use my portable 8.33 radio with a new antenna…
We enjoyed visiting Granada and the Alhambra in a beautiful weather.
This morning Raymond went to Malaga to take his flight back to Belgium.
I took a taxi to Granada airport.
The weather was beautiful, big blue sky and light wind.
The Sierra Nevada with the snow at its top was a nice view after take off.
Nevertheless, while taxiing before take off, I had a strange feeling in the pedals and had difficulties to turn and taxi.
I was in a hurry to leave this crazy expensive airport and took off.
While climbing to 7000ft, I had to push deeply on the left pedal and that something that never happened before.
On straight and level flight, I also had to apply a force on the left pedal in order to have my ball centred.
The view was impressive with high elevation below me and surprising landscape.
I quickly lost communication with Sevilla and couldn't reach Valencia.
I decided to keep quiet, and enjoy the silent flight just like in Africa !
It is not Africa anymore but still I have some funny stories from these last days:
We were sitting in a café in Granada, Raymond and I and I asked to the waiter:
– What kind of tea do you have ?
– We have red tea, vanilla tea, black tea…
– Black tea will be perfect with a slice of lemon please
– One black tea and one cappuccino !
– no, one black tea with a slice of lemon please.
– Ok one black tea with lemon and one cappuccino
– No sir, only one black tea with some lemon !
– And no cappuccino ?
Let me remind you that I don't have 833 radio.
Raymond organised something smart with my portable 833 radio and I was quiet anxious to test it at my arrival at Requena.
I decided to descend below the Valencia TMA in order to contact my destination earlier.
Unfortunately nobody answer and I couldn't know the reason, do they hear me and don't answer ?
Do they answer and I can't hear them ?
Is it auto information airfield ? I didn't read anything about it.
Is it my squelch ?
Suddenly I decided to switch back to the old frequency and my old radio and they finally answer: "we suggest runway 12" ! ????
And what is the wind ? I asked ?
I don't know the wind. It is probably 120/5kt…
I can tell you that it is the first time in my life that I receive such answer !
Without any apparent reason, I decided to land on wheeler.
The approach was quiet tough because the runway is just behind a hill and there are power lines all around especially on base and final…
I Landed and when my tailwheel touched down, I noticed how lucky I was to land on wheeler ! It was difficult to keep the plane straight and very hard to taxi.
After refueling, I wanted to turn the plane and the tailwheel blocked, I couldn't turn on the left.
Long story short:
Raymond who just landed in Brussels after my landing in Requena, looked at my messages and pictures…
He is now back in a plane to Valencia and will arrive with a new tailwheel that he will fixe tomorrow before flying back to his work at the evening.
Yes, I am very lucky first that it didn't happened in Africa, second that Raymond is helping me to finish this trip in good conditions.
At the airport, the company which sold one ticket over the number: Raymond's ticket asked him to stay and take another plane tomorrow.
A gentleman said that he was not in a hurry and can wait one day !
Yes, I am lucky, we are ???? lucky !
Thank you very much Raymond !????