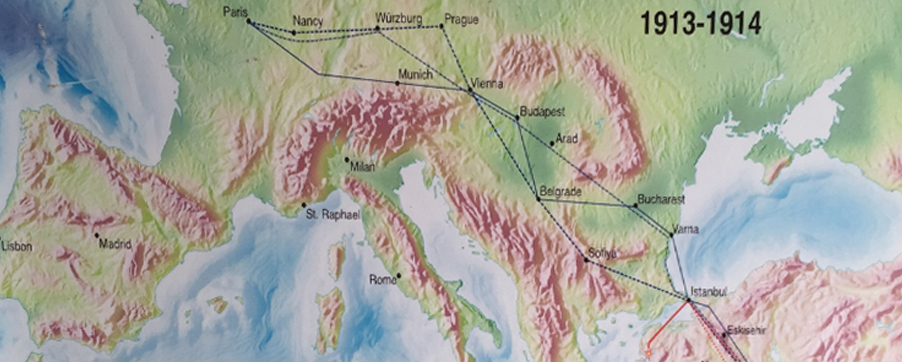 « There's no hazard… » August 2017
Before taking off to new adventures, I wish to explain the importance this trip represents to me.
For many years, I have placed in my objectives of 1st January: "Travel but travel differently".
It was then that I started aviation and that from the beginning of my training, I had the chance to travel… so to travel in a different way, generating an extraordinary sense of freedom.
After becoming Bush Pilot in Alaska in 2015, I wanted to travel as a bush pilot !
I started looking for a Piper Super Cub and I quickly found one that seduced me !
This is a PA18-150 that flew for the Israeli Air Force cadets from 1967 to 2003.
At the same time, after 5 years of procedure, Yad Vashem granted the title of Just among the Nations to my paternal grandmother.
Being at the origin of this approach, this "coincidence" challenged me…
Besides, Freud said: "hazard does not exist".
Waiting for the weather to allow me to go and fetch him, I went to Israel at Yad Vashem to see the name of my grandmother engraved in the Garden of Righteous Among the Nations.
At the same time, a friend asks me "by chance" if I want a guided tour of the Israeli Air Museum in Beer Sheva ….
I run immediately on the field and during this visit in the footsteps of the history of my new plane, I discover "by chance" a map retracing the route of reckless airmen who linked Paris to Alexandria in 1913 passing through Israel And thus connecting three continents before the First World War !
The photo of this chart is hooked on my fridge since, such a goal to reach…
For me, this journey which "imposed" on me represents a lot:
• A return to the roots for my plane,
• A historic flight in the footsteps of Jules Védrine and Marc Bonnier in 1913;
• The meeting of three continents and 5 seas by plane of legend, a PA18 !
In short, an initiatory journey that will certainly change my perception of the world
N45458 is back home in Israel
by Lady Bush Pilot
In 1967, the young and new nation of Israel needed aircraft to train its future pilots at the air army.
The United States sent to Israel quite a lot of PA18-150 also called Piper Super Cub.
My plane was part of the lot.
She worked for the Israeli Air Force cadets from 1967 to 2003.
His registration of the time was 04-012 and I have the logbooks of the plane since its origin.
Its engine was changed in 1996.
When I returned from Alaska in August 2015, I decided to buy a Super Cub within 2 years. Three months later, I owned N45458.
She was at the time in the hands of Peggy at Baden Baden where I went to discover this cuckoo without any prior knowledge of its history.
After some hesitation, on November 1, 2015, I signed the sales contract and sent a deposit to Peggy.
The dice were thrown!
The bad weather did not allow me to get N58 so soon.
In January 2016, for reasons related to my family history, I decided to go to Israel and a friend offered me the opportunity to visit the Beer Sheva Air Force Museum, which I did with enthusiasm and straight away!
During this very interesting and rewarding visit, I discovered a map retracing the route taken by French aviators in 1913 connecting Paris to Cairo via Jerusalem.
I immediately took a picture of this map and made the promise to fly this route as soon as possible with my new plane (which I had never flown!)
Today, January 2018, this is something done! Exactly 2 years later!
You will now understand why my landing at Haifa will remain forever etched in my memory.
My friend Aharon who was waiting for me with Calman in Haifa flew with my plane when he was a cadet at Beer Sheva!
This number of happy and extraordinary "coincidences" makes me think that I am on the right track, where I must be at the right moment …
The day after my arrival (Thursday, January 11th) we went to Mediggo airport, Aharon, his friend Emmanuel and me, where the Stearman of Aharon is hangared.
On Friday the 12th, like every Friday, Aharon and his friends, all pilots and technicians, get together to restore vintage aircrafts. I have the great privilege of having been adopted by this group of extraordinary aviators.
Today, I'm back to Belgium, my plane is in Haifa, back home and I can not wait to be back in Israel in March to fly over the Holy Land!
From Larnaca to Haifa in details
by Lady Bush Pilot
The previous publication relates my flight to Israel in a very personal point of view.
I wish now to return to Paphos because my stopover in Cyprus was unusual and very intense!
So I landed in Larnaca with a Ryanair flight on Monday, January 8, took a taxi to Paphos where my plane is in Matthew's beautiful hangar and where Spiros expects me for engine tests.
Spiros received a few days earlier the four new cylinders that Patrick sent him from Antwerp.
The first test is performed on the ground, 10 minutes at 1500 RPM.
Everything is going well.
The second test is at least 20 minutes with 10 minutes between 1500 and 2000 and 10 minutes between 2000 and full power.
Everything goes well, the oil heats a bit at the end of the test but it is normal because the aircraft is not in flight attitude and therefore has no air flow to cool the engine.
We are finally ready for the flight test.
I complete my flight plan but unfortunately a military helicopter drops parachutists north of the runway just where I want to spend my two hours of flight test!
South of the runway, over the sea, a commercial flight performs touch and go's …
They ask me to wait an hour.
I meet a German jet pilot very friendly who owns a Piper Super Cub in Germany and who knows Verena, our charming hostess in Tannheim …
When I tell him my flight intentions : a 2 hours test flight after changing my 4 cylinders and tomorrow flight to Haifa, he gets scared and do not understand how I can take so many risks … flying over the water with a single engine … !!!!
Then arrive two charming pilots from Larnaca who come on purpose to see me and escort me to Larnaca! ?
Two charming pilots I do not know, enthusiasts and passionates: Vitaly and Emre.
But before considering joining Larnaca, I must perform this flight test of two hours …
The helicopter finally stops its drops and I can take off … but left turn after take off that is above the water at low altitude just after my first takeoff … I admit having dreamed better!
I slowly climb to 3000 ft and stay at gliding distance from the runway. …
Suddenly the controller proposes me to cross the runway and to the north of the runway, I accept immediately.
Starts then, two hours of rotations with a regime between 2400 and 2450 RPM.
The oil is stable both in terms of pressure and temperature …
Time is running slowly and I am confident in my plane.
I am so relaxed that I would have a good nap ?
I land after two hours and thirty minutes and there, things are running very quickly: we must leave Paphos to Larnaca before sunset!
I say goodbye to Matthew and Chris, Emre climbs with me and we take off …
After 10 minutes of flight, the visibility disappears, I keep eye contact with the ground but we are in the middle of a beautiful low stratus … a real mashed peas! It only lasts a few minutes and we find back vmc for only a short time because the elevation of the terrain forces us to climb and we find the stratus again… I am very happy to have Sky Daemon and the sectional plan that tells me the elevations under me and in front of me …
We finally arrive at the waiting point: the salt lake, there the controller makes me orbit for 20 minutes!
The colors are beautiful, the flamingos are fishing peacefully a few minutes before sunset, commercial flights arrive one after the other … and suddenly everything calms down! It's finally my turn! Kiss landing at Larnaka at sunset precisely!
I taxi to the Spiros hangar when the controller asks me to go to the tower for some remarks …
My new friends join me and here we are on our way to the tower.
The controller reproaches me for not being passed by a point and not having joined the downwind when I was number 2!
Ok, I did not go through this point, mea culpa, I was too busy flying safely looking at my instruments and my altitude above the mountains!
Join the downwind but I already was on downwind! No, I would have to fly over the city (yes yes in Cyprus you have to fly over the city!), Get away from the airport and come back with a downwind, basic leg and final … uh ok Sir but do you know the plane I fly? I fly a Piper Super Cub, I do not do a commercial flight circuit while I orbit for 20 minutes next to the runway! did you see how I landed? A short circuit was smarter, faster and less disturbing for everybody with a Piper Cub …
In short, if you fly in Cyprus, beware of very different uses than in Europe!
My charming new friends invite me to the restaurant where we spend a great evening at 4 with Spiros …
They insist that I stay one more day, they want me to visit the city and I admit that I had being extremely tempted …
After studying the weather I notice that the next day there is almost no wind between Larnaca and Haifa (and therefore probably less visibility) but the next day it is expected 20 kt headwind !!!!
The question of staying one more day in Larnaca no longer exists, it is absolutely out of the question to find myself above this big blue with 20 kt of head wind!
The next morning, arriving at the office of my handling agent, I receive an invoice of 1000 € !!!!
In Cyprus the handling is obligatory and unavoidable.
Paying handling does not bother me AT THE CONDITION of receiving IMPECCABLE service!
But we are very far from it except Mike (the first agent when I landed in Paphos).
In this bill even appear hotel nights that I paid myself, this negligence is unacceptable.
After long discussion, I pay 600 € … exorbitant! ?
The handling agent introduces my flight plan and allows the tower to modify my altitude without contacting me … what a service! ?
I phone the tower, they refuse to change my flight plan because it will be too long …
Fortunately, I am surrounded by a crowd of charming people ? who only ask to help me and make me happy … one of these pilots is in charge of contacting the tower and put the points on them! Thanks to him!?
Big G, emeritus photographer, take beautiful shots of my plane and of this friendly little team that follows me, supports me and helps me since my arrival in Cyprus.
Fortunately they are there, this kind of warm and constructive meetings enchant me! ?
Upon my return to Belgium, I immerse myself in the organization of my Flap 3 in order to anticipate all these problems of handling at best to privilege only the fabulous meetings …
Tomorrow I leave Israel ? and leave my plane here in the hands of Aharon, my next visit is scheduled in March when visibility and climate is more favorable to overfly the dead sea at negative altitude, Masada, and Ramon crater …
In May, my plane will be put in a container to join Mombasa where will begin the true African adventure: Flap 3: Mombasa – South Africa. ?
Thanks for following me…!?
Flap 1- Reaching Israel the 10th of January
by Lady Bush Pilot
Following the first flights to the Levant
After taking off from Larnaca, I flew into a foggy sky where the sea merges with the sky, the left with the right, the bottom with the top …
Two hours to watch my instruments … it promises to be cotton! and in cotton I am ! I'm right into it…
Like an initiatory road, a biblical path, I continue my confident journey.
Passing VELOX this is the end of Europe, the door to Middle East and there … EVERYTHING changes on this point precisely!
A layer of clouds appears, the underside is ultra foggy and visibility very bad, the top, a big blue …. I hesitate for a moment … and climb! Climb and find myself "on top" of a thick white carpet, a strange feeling invades me.
The purr of the engine seems suddenly different … but the parameters are in the green, everything is ok ….
The controller of Tel Aviv wishes me "Welcome to Israel Madam" and the emotion invades me, my vision is troubled … emotionate by my arrival … but no Valerie, we are not there yet!
I relax, my eyes were tired of this thick fog, I do not touch ground anymore, no more contact with the ground, nor with the sea, only the air ….
I take advantage of this peaceful calm to take some quick shots and a small video …
The flight continues when suddenly appears to my left a snowy summit … it is Lebanon! It's wonderful, it's biblical!
Then, like a supernatural phenomenon, this cream pie that I overfly is cut with a knife and lets appear the big blue …, it is precisely at the entrance of Haifa zone! As if the weather knew the aeronautical routes ….
I descend to 3000 ft, the visibility is extremely foggy, I distinguish what should be the airport and bring me closer to it.
My settings are all good.
Not only do I regain confidence in my plane but I finally reach this much desired destination.
My Flap 1 was a long quest like an initiatory path … it was planned!
My friend Aharon accompanied by Calman, two aviators emeritus, are waiting for me on the ground …
The excitement invades me, I can hardly believe that I am in the Holy Land!
News about Flap 1
by Lady Bush Pilot
Hello everyone, First of all, I would like to wish you a happy new year 2018, hoping this year allows you to realize your dreams! It is clear that my
Flap 1 took a few more months then what had been initially planned… I left Istanbul early December with Aharon: Izmir – Bodrum – Rhodos – Cyprus
(Paphos). Taking off from Paphos: new engine problem but this time significantly more consequent! The good news is that finally we were able to
identify the problem: the cylinder 3! The other good news is that once again I had the chance to meet a talented and very friendly mechanic: I named
Spiros! Spiros with the help of Patrick Van Dooren (Antwerpen) made the diagnosis and under the guidance of Patrick, I made the decision to
change my 4 cylinders !!!! These were sent to Cyprus and Spiros is responsible for putting them back on the plane. I will return to Cyprus Monday,
January 8 and plan my flight test on Tuesday or Wednesday, I hope to reach Israel, finally, Thursday or Friday! But I dare not think about it yet … This
accomplishment, this dream of flying at a negative altitude over the dead sea and the joy of landing on the land of Israel, fly over Mitspe crater …. I
do not dare to believe it anymore … My intentions following Israel have also changed a lot: I will not achieve the flap 2 for safety reasons (for info,
my engine will be on breaking, which means that I use an oil that does not cool well engine and I must make flat take off, climbing with some level-
off to properly ventilate the engine …), cost and administrative problems. So I intend to put my plane in a container for Mombasa and start my Flap
3 in Mombasa! The details will be clarified during February and March but the departure of Mombasa is expected early June. To you who follow me
on my blog, thank you!
Cheers!
N58-Grounded at Paphos
by Lady Bush Pilot
Dear all,
Once certain to get my Turkish Flight Permit, I left Brussels one more time with a commercial flight for Istanbul (the 6th journey Istanbul <-> Brussels … !!!).
I had asked the Turkish authorities for two flights "tests flights" for Saturday and Sunday : touch and go's at Hezarfen.
I did received permission for a "local flight from Hezarfen to Corlu » for refueling.
People at Corlu were waiting for me and informed me about their surprise and displeasure following the article about me in the local press incriminating Corlu in my permit problems ….
I remind you that during our flight Sofia -> Corlu, we waited 5 hours in Corlu with nobody speaking English (in an international airport !!) and nothing has been done within this time except reading the passport …
This time, however, scrupulous inspection of my plane, luggage, passports, flight plan, fuel …. And all this for a small local flight of half an hour!
The flight was superb and I was very happy to find my plane.
It seemed to be purring properly and I thought that all the worries were this time well behind me!
On Monday, I picked up Aharon at Ataturk and I was expecting make a local flight over the Bosphorus …
Once the flight plan had been accepted, the engine started, no, we must wait for another authorization … that is not coming…, we turn off the engine, we wait and…., we stayed on the ground!
I suspect the authorities of playing with my nerves …
So, no flight over the Bosphorus linking the Black Sea to the Sea of ​​Marmara … I regret bitterly missed this unique chance in my life!
The next day is our day of departure.
The weather was cloudy and some thunderstorms were threatening but Aharon felt confident and I trust him …
Then, the authorities were suddenly less confident … I felt that it annoyed them that I fly by this weather …
Once the engine is running and the flight plan accepted, the tower asks me to stop my engine and call the briefing office … .which tells me that everything is ok! Phew!
Here we are finally flying and the light is magnificent, the scenery is beautiful.
We avoid a big storm at the end of the course and land in Izmir Selçuk.
Small airport where we are very warmly welcomed.
The storm breaks out soon after and prevents us from visiting historical sites such as the castle of St. John of Jerusalem (Knights Templar) and after sharing a table of little old people who played a funny game of dominoes , we reach a shabby hotel without heat… Shivering under my suspicious blanket, I felt asleep hoping that the next day will arrive quickly!
In the early morning, after an digusting breakfast, we take off for Bodrum where we land for the "customs" before eventually leaving Turkey.
They kept us 3 hours! But here at least, everyone speaks English!
The costs of handling, parking, landing are totally indecent!
We are leaving Turkey, I am delighted!
However, I would like to point out that if my stage in Turkey was filled with a lot of inconveniences, I met some lovely people, of great quality and generosity, I think especially of Mustafa of Top Service with Octaï his right arm, but also Vildan who works at the airfield of Hezarfen, as well as all the charming pilots I met in this small ultra-friendly airfield, they are unfortunately too numerous to be able to quote them all … I know on the other hand that the Alper Curtis' task was not easy and I want to thank him for getting my flight permit!
Once in the Greek airspace, I feel again in Europe, and everything seems simpler ….
The approach to Rhodes is just SPLENDID, imagine coming from the north, above the sea dotted with small idyllic islands, the track of Rhodes is parallel to the sea, "downwind" above the water, "base leg" and "Final" …. So awesome! Ultra happy!
I had long ago spotted a splendid "boutique hotel" in the old walls of the old city … Here we are in the heart of the city of Knights Templar, Knights of St John of Jerusalem! Here you are!
The rich culture of this city floods our eyes and our senses, we are seduced and delighted!
We have a great evening and we promise to return!
The next morning, the husband of the owner of the hotel offers me a little Christmas rose to put on the plane … is not it charming?
This step towards Paphos, about 3 hours above the great Mediterranean runs smoothly with a high quality Nicosia air traffic control!
The approach to Paphos is splendid too!
We are so happy to have made this long trip over the water and we are both in shape, so we decide to continue immediately to Haifa and Israel!
The formalities slow us down and we are under the stress, I hate to be in a stress mode at takeoff but hey, the sun set is expected on our arrival … We must swarm …
Finally here we are clear for take off, I roll, I take off and about 250 ft, loss of power, the engine coughs, makes more and more noise, the plane shakes, we ask for a landing and we land safely.
There my morale falls in the bottom of my socks!
Here we are in the middle of the Mediterranean, in a small airfield without maintenance, I see myself already having to explain everything for the hundredth time to the local mechanic who will say that it is the candles, not the carburetor, not the magnetos … In short, I feel the end of my trip and I imagine already have to call Raymond to disassemble my plane to put it in a container towards Antwerp ….
But fortunately, our "handling agent", Mike, gives us the coordinates of Spiros, a local mechanic who wants me to fly to Larnaca where he has his workshop … heuuuu bof bof …
The evening is short, we are exhausted and I am desperate …
Reaching Israel seems absolutely undeserved … why? I do not know!
We stay in a very average hotel where we "dine" tomato soup without tomato, a small salad and NOTHING good! We go to bed early but have a hungry stomach.
The next morning, we have an appointment with Spiros on the plane ….
And there, what a nice surprise to meet two charming South Africans! Spiros and Matthew!
Matthew offers me the bible bush pilots of South Africa, I can not stop reading it …. I have 2500 bush runways in South Africa, Namibia, Zambia, Botswana, Zimbabwe, Mozambique …. So awesome!!!
Spiros listens attentively and suspects a problem in cylinder 3, compression is good when engine is cold but not when it is hot, it has failures.
We decide to fly Spiros and me to Larnaca.
He is NOT a pilot but I feel confident with him … I hope it's mutual!
We take off, and around 250-300 ft: power drop, engine noise even more frightening than the day before, the plane shakes … Calmly, I join the downwind, and land.
I leave the plane laughing, my head is totally different than during my emergency landing of Nis …. This is because now we know the problem, the engine will not stop! It is a sticky valve to cylinder 3 ….
As soon as the engine stops, Spiros takes again the compressions of the cylinder 3 = 0 !!!!
I am relieved and serene, I know that I will be able to continue my road without more no motor incident, my plane is in very good hands, and Spiros promised me to prepare a plane in perfect state of flight until my return in Belgium!
So I'm back in Brussels, the time that Spiros heals the 3rd cylinder …. It will also make the "Bulletin 388" recommended every 400 hours by Lycoming ….
I also decided to change my Flap 2 a bit.
As soon as my plane is ready, I will go to Israel and leave my plane there until February.
In February, I will continue via Aqaba, Hurgada, Aswan, Dongola, Khartoum, Demazin, Bahir Dar, Addis, Lokichoggio, Entebbe …
Flap 1- pt 2- 25 Novembre
by Lady Bush Pilot
I am back in Istanbul – Hezarfen WITH my permit to fly !!!!!!!
The weather is good and I take off for my test flight to Corlu with Octai, my favorite mechanic and under the watchful eye of Mustafa, scrupulous mechanic that I will regret …
The flight goes smoothly, the engine purrs agreeably, we fly over the sea of ​​Marmara and land at Corlu where an air traffic controller is waiting for us.
The welcome is warm but he would like to understand what happened during my first visit …. I explain to him what I have already explained many times: We waited 5 hours and our flight plan for Hezarfen was accepted, we took off to Hezarfen. Unfortunately no one spoke English on the ground …
Something has been done wrong but by whom, why and how, I do not know …
This time, everything is done in the rules: inspection of the plane and the luggages and signatures of all customs documents.
None of this had been done when we arrived …
The good friendly atmosphere that reigns allows us to put things into perspective.
I meet a super nice instructor who is married to a French girl …
We take off again to Hezarfen, much heavier since we refueled but everything is going very well, no engine problem, very nice end of the day flight with a shimmering light that illuminates the Turkish soil ….
Kiss landing at Hezarfen, I am GLAD of these two small flights and especially very happy to find my plane as I know her …
This Sunday is rest day and tomorrow my new co-pilot Aharon arrives in the morning, I hope to fly over the Bosphorus late afternoon ….
Flap 1 – Part 2 departure
by Lady Bush Pilot
Hi everybody,
This new departure to continue the Flap 1 – Part 2 journey is in few days!
I will fly back to Istanbul next Thursday the 2nd November.
The 3rd and 4th, I will make some more test flights.
The 5th : clean and load the a/c.
The 6th: Aharon is arriving, a local afternoon flight is planned.
The 7th : departure , destination Izmir!
I still do not get my flight permit for Turkey…!
Please, all of you, cross your fingers of hands, feet, take your lucky charm, your rabbit's foot, your grigri, make some pray or any incantations…
Of course, I will keep you inform!
Good news for Flap 1 part 2
by Lady Bush Pilot
Hi Everybody,
I have a copilot for Flap 1- part 2 !
My friend Aharon will be my copilot from Istanbul to Israël and I am very happy about that !
Aharon is the greatest pilot I probably would never know ! 34.000 hours of flight! He will probably correct me saying: "no, only 33.687…"
We are planning to leave Hezarfen around the 6th November.
More details will follow !
Valerie
Grouded at Hezarfen – follow up
by Lady Bush Pilot
Dear All,
Last Saturday was an amazing day of teaching and learning for me… in mechanics ! Oh yes !
Undertaking this Tryptic Trip, I've been expecting to face psychosocial and introspective experiences but not really this learning of intense mechanics!
Though, the psycho-introspective aspect is present !
I think I've learned more about aviation these last days than ever since I started !
Okay, maybe I'm exaggerating a bit…
One thing is for sure, I learned more about myself in aviation !
Despite my intense apprehension to make this test flight, I left with a smile and confident despite gusts of 22 kt with cross component !
And thanks to Mustafa !
This guy is an excellent teacher! Good mechanic of course but he explains me clearly and in detail… he gives me good advices.
I trust him !
And finally the whole story, if that was only a question of trust ?
A forced stop in Istanbul to gain confidence in my plane, in my capabilities ? An initiatic stop in brief… and now I am ready to cross the Mediterranean! I know I'll be able to–
Well, about the technicals, you still want the details ?
A full day of work:
– the carburetor: it takes time to put the carburetor back on !
There is a kind of screw on the side of the carbu with left L for lean and right R for rich: by placing the carburetor, you have to put full lean and turn right one and a half turn to have the position estimated good. (hey hey did you realize that I recycle myself in aeronautical mechanics ?)
Mustafa taught me how to estimate whether the position is good or not: at 1700 rpm, lean slightly and the rpm must rise slightly before going down, as long as the needle does not rise, the mixture is too poor… we had to enrich 3 times on the screw of the carbu… to have the correct setting and as we are at sea level, and that exceptionally, for the occasion, there are only 15 degrees, this is the ideal situation to make this adjustment !… (the test is done at 1700 AND 1100 and must provide the same result)
– air filter delivery: I had seen that when the carburettor heater the valve did not close completely but Octai too… everything is well put back !
– the electric cables (the left magneto serves the candles bottom left and up right contrary to what I thought)
– change of the RPM, for those who do not know the whole story: the rpm of my plane overestimated the tachometer, so I made one day of 4 hours 24 minutes of flight while I have only 4 hours of range… in short, it disturbed me because impossible to know precisely my fuel consumption…
So I ordered a new RPM but it showed failures, it was sent back to the factory and in the meantime Raymond gave me a very old RPM but that works very well, only worries, sitting on the plane, I do not see the small lines at the top of the screen between 2000 and 2500 rounds… annoying… so we installed a very practical and reliable system but I would prefer a new RPM.
A few days ago, the RPM came back from the factory, we put it on Saturday. Very good vision of the estimation of the dots… but it does not work ! It underestimates of 80 to 95 depending on the power !!! It is nevertheless not negligible for a new RPM ! So, we put Raymond's rpm back.
– we changed the ignition switch
– we changed the o-ring of the primer
– a new set of 8 new candles
Ha yes, you want to know how the test flight test ?
I have a flight plan for 30-minute flight test over the lake… (if in the morning I was told I should do my flight test over the lake, I would have stayed in my bed!)
The test flight was done with the "bad new RPM" so uphill I had not 2500… Mustafa confirms me that a lycoming O320 of 150 hp must have climb after TO: 2700 min !
But hey, the sound of the engine is beautiful (different from before I do not know why, softer…) and as Hezarfen turned into Ataturk airfield (traffic viewpoint) just when I was flying: I made two take-offs, according to Marcel's advice, I was leaving the track and taking off from nothing and not a touch and go… so I had to wait until 4 planes landed and two take off before off again…
Octai flew with me and he filmed takeoffs… Nothing to do with Sofia or Nis !
We set appointment at Hezarfen Sunday at 11 o'clock for flights tests with the rpm of Raymond !
And things did not go as planned!
I started a nice gastro during the night and the morning and had to cancel my appointment test flights, Mustafa was adorable to bring me my pharmacy which is in my plane…
On Monday, I was not yet re-established and I remained at rest.
On Tuesday morning, taking the bull by the horns, I decided to make a nice flight and to fly over the Bosphorus ! Just that ! All alone and Toc!
I prepare my plane, everything is ready, I complete my flight plan with the agreement of the inspector of Hezarfen for my journey which meanders between prohibited zones and others…
We send him to Ataturk and no, I do not have a permit to fly !
A Permit to fly ? But what permit are you talking about?
You need a permit to fly in Turkey !
Really ? First news, why don't you give me one ?
No, how did you arrive ?
Coming from Sofia, I landed in Čorlu,
They phoned Čorlu: we have no memory of this lady, no, none of this report came to us !
Fortunately, I kept copies of the two customs pages they had signed! Phew, everybody beleives I've landed in Čorlu, but you need a permit… they don't stop repeating me, yes okay, give it to me! What more do I need to do than give you all my documents ?
This small show lasted Tuesday from 10 am to 5 pm without any interruption! Thanks to Vildan (collaborator of the manager of Hezarfen) who spent a crazy energy and even lost patience with these people full absolutely not helpful !
So after technical issues, here are administrative issues, I ask myself the following questions:
– what the hell should I do to deserve to continue my journey peacefully ?
– Is there something missing ?
This morning I went to Hezarfen, warning Mustafa that we could not fly.
Everyone wants to help me but no one can do anything against the civil aviation administration… everybody gives his opinion, his grain of salt, but in the end, who saves the situation once again ? Mustafa ! It puts me in contact with a guy who does handling… he understood directly where the problem is and explains that it may take a few days but that everything will go in order… and I believe it !
So I did not do the flight tests I wanted but the two fraudulent take-offs went very well!
I return to Belgium tonight, leaving my cuckoo alone in Hezarfen…
But if everything was simple… what would we be bored !
Valerie
Back to Hezarfen where N58 is grounded – Day 1 – Report 1
by Lady Bush Pilot
I got up at three o'clock !
UTC but still…
The flight was amazing because we followed mostly our route Flap 1-Part 1, I knew all the time where I was, saw the same scenery, the entrance to the valley that leads to Innsbruck right before Salzburg, the pre-Alps, Bulgaria, thanks we avoided Serbia… then Čorlu, the penitentiary that I had to bypass after take off of Čorlu …. and the coast on final of Ataturk where Marcel made water skiing !
Of course it was not quite at the same altitude…
I rented a car and went to my hotel with a gps that speaks Turkish to me, I think it is a feat
Then heading Hezarfen where there was no soul alive!
I went to my plane without seing anyone, nobody asked me who I am, I opened everything and started to clean my aircraft because she sacramently suffered from being outside .. poor !
After a good half hour of solitude, i started feeling the fatigue and I call Volcan, Marcel's friend, he calls Mustafa to tell him that I was there … and Mustafa was in a hangar on the other side…
So there was a very warm welcome! On behalf of Mustafa and Oktai my "chouchou"… you know why Oktai is my "chouchou" ?
Because when he pours oil into my airplane, he cleans the inside of the tube of the funnel… and for an obsessive of cleanliness like me …. in short, I dream of kidnapping him
Oktai put the address of Hezarfen in my Turkish gps, it's easier…
In short, we will meet tomorrow morning at 10 o'clock for:
– put my rpm that I bought in June but that was not good and Andre sent it back to the factory in UK, he dragged it back… and Raymond gave me one but I can not read it well…
– replace my cleaned carburettor. Patrick gave me a second carb to test the plane in case the problem is not resolved but as it is not a carbu for my plane Mustafa said that it's helpless, which makes sens to me …
– change ignition switch
– check the o-ring of the primer.
– replace the electrical harness
After I will be good for a flight test…
So I bought a grigri against the evil eye that I will place directly in my plane tomorrow morning…
I am sitting on the terrace of a small restaurant 10 meters from the Sea of ​​Marmara….
I will make it short tonight, will report tomorrow evening.
Kisses to all,
Valerie
N58 sickness: Analyses
by Lady Bush Pilot
This October 2nd, I receive the following information from the people in charge of the analysis and care of my plane:
– Patrick confirms that my carburetor and my electric harness are nickels !
– Mustafa confirms that my exhaust is nickel !
Isn't it sad not to be able to enjoy that things are "nickels" ?
In short, I still do not have the explanation to my engine problems but the fields of investigation are declining frankly !
Mustafa will investigate the magnetos' grounding in case the vibrations of the takeoff disconnect a magnetos…
And after… What do I do ?
Whoever you are, if you have an idea, call me !
Valerie
Feed back Flap 1 – part 1:
by Lady Bush Pilot
I'm in Biscarrosse and I can tell you that yesterday was AMAZING !
First, I was welcomed by my friends such as Jean Mermoz coming back from the Cordillera of the Andes… what I admit is very good for the mood!
As a reminder, last year I participated in the Raid Latécoère seaplane with Aquitaine Hydravions seaplanes… it creates links !
In short, after my proficiency test, I made a real estate prospecting flight along the shores of the lake in search of small cabins, almost classified that are handed down from father to son staying preciously in families for centuries. fly at 100 ft… that's what i adoooore! I saw the wild horses refreshing in the lake at the end of the day… and I was congratulated for all my landings! It's good too! By mutual agreement, everyone had agreed that I was exempt from emergency landings ! ⯑⯑⯑
Yesterday at Aquitaine seaplane, there was a nest of Belgians and the exciting atmosphere was surprising !
In short, all this boosted my batteries to the point that I am ready to start flap 1-part 2; flap 2, 3, 4, 5… in the wake! And in addition I plan to buy a Piper Cub on floats !! ⯑⯑⯑
It's amazing how much a small flight can change life.
But back to serious things, my plane is still in Hezarfen in Turkey, I'm still waiting for the diagnosis of the electric harness and the carburettor from Patrick, I heard from Mustafa who inspected the exhaust: RAS, he will now analyse the earth cable of the magnetos that could disconnect during takeoff because of the vibrations…
In short, we continue our analysis !
For info and coincidence, Marc Bonnier and Barnier his mechanic had been blocked some time in Constantinople in 1913 during their journey for reasons of engine and adjustments ! I follow them in their tracks, for sure ! The trials of this journey of initiation are present as everyone has seen !
But let's look at the positive points: this allows me to make a point and structure my trip more finely for the future and here are my remarks, my intentions, my perspectives:
– I will not continue without co-pilot, the workload outside Europe is heavy and tiring, I would like a motivated co-pilot who is used to travel outside Europe or who has dreamed of it for a long time, a co-pilot "connected" (phone, ipad, passport, license), copilot "reporter" to take beautiful pictures and videos, finally a co-pilot who helps to analyse the weather forecast and who can help in flight to take notes… And if possible a co-pilot who knows Fore Flight but that's just the dream…
– I continue as far as possible to fly early in the morning
– as far as possible also, I fly about 250-300 NM / day.
Let's keep connected !
Please have a look at the pictures and video about Flap 1 – Part 1 in Past on this web site !
Valerie
Flap 1 – Lady Bush Pilot Follow up
by Lady Bush Pilot
Dear friends,
Here I am back in Belgium, my plane is in Istanbul.
Following a small technical problem intermittent, I decided to land in Istanbul where I enjoy an invaluable support from friends pilots (mainly Marcel and Afsaneh).
In Istanbul, I can take a little time to be sure that my plane is in excellent condition before reaching Africa…
I came back last night in Belgium with my carburetor and my electric cables…
I will keep you informed of the date of continuation of this Flap 1 – Part 2.
I'm looking for a co-pilot for Hezarfen – Izmir – Bodrum – Rhodes – Paphos – Haifa – Amazing local flights to IL – Aqaba – Hurgada – El Gouna – Cairo. About 10 days.
Do not hesitate to contact me about it …
On the other hand, you can always follow the adventures on my blog:
Or when I'm in flight:
By placing this link in your internet browser , you will arrive on my "inreach".
In the left column: click on "cartographic filters" -> date and time -> "most recent track" or "tracking in progress".
If you connect during my flight, you will see my speed, altitude etc.
Thank you for your support, which makes me very happy.
See you soon;
Valerie
Flap 1 – Grounded in Hezarfen – check up done !
by Lady Bush Pilot
Here I am at the airport of Ata Turk in Istanbul ready to return to Belgium leaving my plane here in Hezarfen.
On Saturday night we went like real tourists for boat tour in the Bosphorus, nice… and we got lost in the dark little streets as we headed back to the hotel, welcome exoticism !
On Sunday, always in real tourists, we visited Ste Sofie and took the double deck bus in order to get to know the city better.
We then went to Marcel and Afsaneh who welcomed us to their home in their beautiful apartment with the amazing view… I thank them again warmly.
Yesterday, Monday, we went to Hezarfen where we had an appointment with our technicians.
Mustafa and his team are true professionals who inspire confidence. No precipitation but analysis and clairvoyance…
We have eliminated the cause of the problems encountered one after the other.
We know that there is nothing to the cylinders and the diagnosis would be rather a problem of ignition although we do not find anything abnormal… but in flight, there are more vibrations and the results might be different ?!
I would like it to remove the carburettor but Mustafa considers that it is not necessary, he doubts the good maintenance of the magnetos but I have no doubt about it…
He removes the cables connecting the candles to the magnetos and Marcel throws a wise eye: he discovers there a tiny black spot on the end of a cable… he follows the cable… it is the one that feeds the B3 candle, the problem !
They do not have the parts in Turkey, so I decide to go back to Belgium with the cables and the carburetor, all the same, close all the doors…
As Mustafa points out: it is likely that all worries disappear without I being sure of the real cause of the problem…
Yavach, yavach, as they say here, every thing in its time…
Arriving here in Turkey, I felt guilty for not being able to reach my destination estimated for the Flap 1 but today I see things differently.
Yesterday we were out of the boat with Marcel and then we were invited to Ambrose an Irish friend of Marcel with whom we had a memorable evening !
There were some pilots of exceptions accumulating hours of flight and some incredible world experiences…
It was a great evening and thank you to all of them, we ate meat from South Africa, danced and drunk… Marcel, Philippe and I went back by boat… after the plane, and well I drive Marcel's boat and night !
I can say today that I learned a LOT of my experiences, experiences of others especially that of Marcel.
I consider, as soon as my carburetor is refurbished and as soon as I have the new cables to make the following test flight: 24 takeoffs in two days.
If they are ALL good, I continue.
If one is bad, I will only continue when the problem is solved…
Here in Istanbul, I benefit from the precious and essential help of pilot friends that I will not find in Southern Turkey nor in Rhodes…
I want to regain confidence in my plane before flying over the water…
I am also looking for a co-pilot to accompany me from Hezarfen to Cairo…
Aviation is a school of patience…
Valerie
Flap 1 – Leg 7 – LBSF – LTBU – LTBW
by Lady Bush Pilot
15th september 2017
Last night we discovered Sofia, splendid city, incredible architecture and had an excellent evening…
After a night shorter than expected considering that we lost an hour of sleep (we won a timezone !), No breakfast (I have an egg to peel with "le petit futé" from Bulgaria…), we go to Sofia airport.
We settle the usual formalities: Flight Plan, taxes, etc and here we are at the plane, we prepare it…
The taxi to the waiting point must be 3 kilometres so at the waiting point, we clean the spark plugs, we pay attention to everything…
We are cleared take off…
During the ride, two seconds before being airborn, I tell Philippe: something is wrong … he answers me: no, everything looks ok…. I take off… I repeat: something do not go, there's a funny sound… is this my imagination following my experience at Nis or is it real ?
I turn left as planned but fly parallel to the runway… the controller asks me to turn right, I say no I have a problem I want to land…
Then suddenly I feel in the engine a clearance… I can not describe better what I felt… and suddenly my plane regains power and I gain 300 feet in a blink of an eye…
I reassure the controller, it must be the icing of the carburetor… and I turn right to find my way and clear the international ground of Sofia…
The silence settles in the cockpit and my stomach has gone to my throat…
Since the beginning of the journey, it is now the 4th problem of the kind…
The three days lost in Nis to find new sprk plugs wasn't useful ! No, it is not a spark plug problem, it is not icing, it is something else… but what ?
And here we are above mountains full of fir trees… I scrutinize the ground to find a little land where I could possibly put my cuckoo… But so many firs !
We enter into the Plovdiv area and the controller is adorable, full of humor and kindness, we barely take advantage of it…
We discover plenty of small fields in the middle of the vast expanses of fields on which pride proudly beautiful Antonov2 ! I love them! And no, I do not even take advantage…
We cross this beautiful Bulgaria in amazing colors… I do not really benefit…
The sun shines and reflected on the front hood sending me its rays in the eyes ….
It reminds me that I have to make sure that there is a plot of land in case of breakdown… and I scrutinize the ground full of high tensions lines that are difficult to notice…
Exit from my comfort zone: yes, but risk losing it definitively, no !
In Istanbul we have the chance to have our friend Marcel, pilot emeritus who can help us…
I decide not to leave Istanbul without finding the cause of my technical worries… and to find my plane, the plane that I know and with which I want to have fun and take full advantage of this trip…
We land in Corlu where Mustafa (a friend of Marcel) welcomes us extremely warmly and makes us forget briefly the problems of the morning…
Unfortunately, the formalities are endless and we find ourselves in a corridor waiting to take off for Hezarfen (small field closer to Istanbul), our mood drops and I wonder what my next take-off will reserve to me…
After 4 hours of waiting, we are taken back to the plane and we finally take off…
Before starting the engine, we have the good idea to call the tower… which tells us we have to go back to the terminal, the flight plan is exceeded by one minute and we did not pay a fee…
They send us a "follow me car" and we return to the terminal, we pay the forgotten tax and we redo a flight plan…
We are taken back to the plane and take off, everything goes well, very well… we arrive at the sea, this flight should normally put me in joy but I am stressed…
The approach of Hezarfen airport is breathtaking but I get nagged with the air controler with a duck voice who asks me ten thousand questions while I am in short final: what is the purpose of your visit? What is MTOW ? What is still the type of your plane ?
I am still landing madam… will answer later…
Mustafa who bends over backwards to help us and to please us sent his driver to take us to the Ataturk airport where Marcel is waiting for us to go into town… but Istanbul is great! Very large ! And it's rush hour and it takes a long time…
We spend the evening on the roof of a building with an unobstructed view of the historical monuments of Istanbul…
Marcel states his assumptions about the worries of my plane and we will try tomorrow to have a mechanic with whom we can work to finally discover what is wrong…
It will certainly take several days… but I do not leave without knowing what my plane is suffering !
Continue tomorrow… cross your fingers to find a good mechanic !
Valerie
Flap 1 – leg 6 : LYNI – LBSF
by Lady Bush Pilot
Finally we are out of our Serbian prison and we have been rewarded with our expectation !
Low flight crossing the whole city of Sofia: fly over the golden church… extraordinary !!!! And landing with my little mosquito in a large airport of a capital… parked next to a Falcon… AWESOME !
The new spark plugs are fine and the plane behaved perfectly…
We vowed not to go to Serbia…
We are very happy to be in Sofia, city we love, monuments, magnificent churches, youth swarming from everywhere and people are very friendly…
In short, morale is beautiful, normal with 30 degrees ! 🙂
Tomorrow, departure as soon as possible for Corlu (Turkey) then Hezarfen and we will find Marcel (Belgian friend) in the evening…
For info, the airport of Sofia is closed every night for work but open during the day ! 🙂
See you tomorrow !
Valerie
Flap 1 : versus Tintin en Syldavie
by Lady Bush Pilot
Ce matin, après notre petit déjeuner nous préparions notre vol vers Sofia, lorsque je regarde les Notam… et vous le constaterez de vos yeux… l'aéroport de Sofia ferme ce soir jusqu'au 30/9 !
Notre plan était de visiter un peu la ville, quelle aurait été notre tête demain matin en constatant un aéroport fermé !!!
Donc, changement de plan: on décolle asap de Nis pour Sofia où on refuel, et décollage immédiat pour Primosko !
Suite au prochain stop…
Valerie
Flap 1 – Test flight
by Lady Bush Pilot
This morning, we bought copper paste to put on the new spark plugs.
Arrived at the airport, there was a departure of commercial flight… then I let you imagine the stress that this causes to these brave workers who think only to return quickly to their home after this single flight of the day…
We go to the plane, we change all the spark plugs, we check everything and we are good for a flight test.
I must admit that after an emergency landing, I had a stomach in my throat… and would have gladly offered my place to someone else…
We start the plane but we have to wait a long time to the taxi, so we lean, we clean the spark plugs, we remain cautious…
Takeoff: ok, I find that my RPM is not very far after the 2500 laps but I do not much used this new RPM… the sound of the engine is top, nothing to say…
I climb to 2500 ft, we do some orbits next to the runway and the engine keeps a nice noise…
We can not fly as much as we want because the flight plan gives us a small slot…
I test the magnetos and we both find that everything is good.
I join the downwind and make a super landing… it puts back in confidence…
As soon as we arrived at our parking lot, a girl jumped on us and told us that if we want to leave today we have 1 hour to get clearance, introduce the FP, and go…
As I see that low clouds are hanging on the mountain that we have to fly over, we will first do a weather check…
And the lady tells us with a big smile: broken at 4000 ft…
Gloups, I must have a minimum altitude of 5000ft…
She adds, looking at my disappointment: in a few hours you can leave without problems late afternoon… with a big smile…
Yes but the airport closes in a short time… no ?
The nice boy at the Flight Plan looks at me with a smile and says: "We (here in the tower) are Europe: Eurocontrole… but the airport is Serbia… "
And he summed it all up !
I ask our bodyguard to go see her chief, I want to negotiate a departure tonight…
She warns me already that tonight it will not be possible but may be tomorrow morning…
Ha yes, it is understood that we will leave tomorrow morning…
No, tomorrow the airport opens at noon !
WHAT ????
For a beast cloud stuck to this mountain we must wait 24 hours ?
Faced with his boss, I ask for a departure tonight, and receives a categorical NO in full face… a departure tomorrow morning ? No, you have to ask it 24 hours in advance and it's 18 hours in advance, I can not organize that… dare he tells us straight in the eye, collecting his belongings for go home lunch with bobonne…
Suddenly this airport is deserted, we are really over and not welcome…
We will cover and secure the plane, get our luggage already stowed in the plane… and we are again prisoner of this city for 24 hours more…
And no, we have no choice but to go to Sofia because it is excluded to go northwards, towards the south, these are great summits and very long bequests without alternate…
In short, I am furious, I hoped to leave this sinister place, this place looks like an after apocalypse, there is NO service, no help, they stayed in their professional organization 50 years ago.. Evolve guys !
My remarks do not concern the "Europeans" of the tower but the handling on the ground, the customs, and all those people who take advantage of a rigid system without any worries of evolution or improvement…
And now, a few hours later, I look at the sky, there is no more cloud, extra visibility, blue sky and clear summits !
I'm going to do some lengths in the pool…
Valerie
Flap 1 – Grounded in Serbia
by Lady Bush Pilot
Well this day finally went better than it foreshadowed…
So we finally had access to the plane and we checked the spark plugs… and what was our surprise to discover the B3 totally full of aggregates…
A few phone calls to the mechanics whom I thank in passing for their help, their listening and their involvement.
We find new candles and we drive through the country to pick them up.
Total immersion in deep Serbia… guaranteed change of scenery !
We drove in the opposite direction of our track flowed yesterday with 23 kt of headwind, today there was NO wind !
We discovered a totally ultra modern maintenance workshop at the end of a dirt road at the end of a small village lost in the Serbian countryside…
Hallucinating !
Tomorrow, we cross all fingers so that our test flight is conclusive and we can join Sofia…
See you tomorrow for the latest news !
Valerie
Flap 1 – leg 5 – LHUD – LYNI
by Lady Bush Pilot
Yesterday, Monday 11th, after a good night's sleep in a small hotel in a small university town (Szeged) which we visited with great pleasure, we took off from the very nice aerodrome and made a very nice flight.
We fly over desert landscapes of cultivated land with an oasis of greenery containing a village or a small town…
During dozens of nautical activities, we see only a few houses…
We appreciate this flight helped by very cooperating controllers and this despite the strong head wind that slows us more than expected and makes us consider alternates several times…
We nevertheless arrived at our destination: Nic in Serbia.
We fill up, for the plane and for us !
And here we are ready to take off for Sofia.
During the taxi, the controller informs us that we need a clearance to land in Sofia and that we must reach the terminal…
After some emails and a few phone calls, we receive the clearance which is in fact given by the handling which is mandatory… it will cost us!!!
We finally take off… when climbing, I notice that my RPM does not exceed 2500 turns… I do a level off, wait but I'm not happy with my engine… I go back… … no there is a problem… Philippe is not convinced…
I decide to turn around, Philippe shares my opinion, we have to land…
I lose a lot of power intermittently…
Facing me: the mountains !
I reach the final by passing over a city… not very comfortable…
Slipping and landing nickel… phew, ground !
We joined the parking lot, I test the magnetos, the right shows a loss of 300 laps…
More fear than harm…
We attach the plane and cover it conscientiously because they announce thunderstorms…
Then, the soul in trouble we look for a hotel…
I make some lengths in the swimming pool in order to empty my head…
This morning, after curiously sleeping, we are impatient at the aerodrome to see if my plane is safe, we can not reach it, the airport only opens at 10:30!
Amazing !!!
I admit that waiting there makes our mood falls in the socks…
We also expect a local mechanic who has to come from a neighboring city but we do not know his schedule or whether he will come today or tomorrow…
The city is totally sinister, the airport in the image of the city and our morale is contaminated…
Following the next issue…
Valerie
Flap 1 – leg 3 & 4 – LOAV – LHPP – LHUD
by Lady Bush Pilot
Departure this morning from Voslau to the south of Vienna, we fly over very beautiful landscapes…
The wind is getting stronger and we bravely traverse the area of ​​high winds and turbulences…
Luckily, Philippe can take the controls because my wrist tires a bit…
We land in Pec where we are welcomed as kings and queens…
They tell us however that we can not continue towards Nis because they must prevent immigration 3 days in advance… so we decided to continue towards Szeged where we are promised more border flexibility…
It is however obvious that, in Pec or Szeged, they point out the exit to Romania and not Serbia !!!! Go figure…
On approaching Szeged, what a really surprised !
The smell of hay cut, an aerodrome bathed in a good-natured atmosphere where the gliders rub shoulders with ulm, small planes and helicopters…
The aerodrome is gigantic ( concrete runway and grass runway ) while remaining very family and convivial, we ADORE!
The reception was excellent and we are happy to stay here for the night…
To all those who want to visit Hungary by plane, I advise this destination very simple, pleasant climate and very friendly welcome…
Tonight we eat local: the goulash !
Valerie
Bad weather
by Lady Bush Pilot
This morning, an unexpected strong wind surprised our intentions of flight and with great regret we decided not to venture into this zone of strong and turbulent wind (28-32 kt at 3000 ft on a north-south axis).
Yesterday afternoon, we were immersed in the Viennese atmosphere and were very pleasantly surprised by this permanent musical culture and the preservation of cultures and traditions.
We had a carriage ride (love it !), Had a tour of the cathedral and why not light a candle to protect our trip ?
After an excellent night's sleep, the weather decided otherwise and forced us to continue our cultural tour: museum and house of Mozart, Beethoven's house in the morning.
The afternoon took us to the cemetery where are the mausoleums of the great musicians… very long stroll under a beautiful sun and cloudless sky making us doubt our morning decision…
We have difficulty believing that this radiant weather does not let us steal…
We scan the planes in the final of the international airport: Philippe finds that they fight against the wind, I find them wonderfully stable and have some regrets…
What we love in Vienna: the shops we do not see any more like a splendid shop of canes with silvered knobs chiselled, shop of cult articles, and especially we like the extraordinary architecture expressing a great respect urbanistic.
The permanent presence of the music is delighted !
We are currently in the palace of Schönbrunm, sitting on a terrace facing the castle… life is not too bad !
Let's cross all the fingers so that the weather will be favorable tomorrow…
See you soon !
Valerie
Flap 1 – leg 2: Tannheim – Voslau
by Lady Bush Pilot
This morning, after an excellent night of restful sleep in the very enclosure of the airfield and a good breakfast, we took off in the cool morning.
A little bit of icing uphill just after takeoff but after a blow of heater carbu, everything goes in order…
We fly in a very quiet atmosphere, perfect visibility and extraordinary controllers !
On the right: the mountain, on our left the plains…
Once surpassed Salzburg, the relief becomes clearly more present and therefore the turbulences…
I feel that these mountains will never end and do not see how a valley could be there… and then suddenly, just a few nautical miles from our destination, there is the valley… still a few big jerks, aim the small pass… and plouff I can dive towards the circuit… and the valley is very beautiful, full of vineyards and small lakes.
Approach in a strong crosswind… and landing on a beautiful track in full sun.
When we refuel, a very nice gentleman comes to see us because he's got a Piper Cub !
While cleaning the plane, Philippe starts the conversation with Bill and Bill finds us a hangar ! A big hangar just for N58 !
Then our guide takes us on a guided tour of Baden, a small town full of "farms" of wine growers who open their doors to offer meals… it's beautiful, bucolic and Beethoven has created a symphony here, Mozart: the flute enchanted and Shubert wrote the trout…
We are entitled to the history of the various wars and invasions that were stopped by the famous mountains overflown in the morning…
Bill drops us off at the station and we join Vienna to take over human figure at the hotel.
We are preparing to make a small tour of the city and therefore I leave you…
See you tomorrow !
Valerie
Flap 1 – leg 1 – EBNM – EDMT
by Lady Bush Pilot
Here we are in Tannheim…
Small green aerodrome under a beautiful sun and some cumulus of fine weather.
We took off from EBNM at 11:35 LT surrounded by a warm team feeling stress-free and confident.
After a few minutes of flight, we found that the visibility was not ideal and that clouds were right there in the small valley between the hills, where I wanted to pass… pffff…
First flight of this first leg of FLAP 1: sportive between clouds, mist, wind turbines, antennas and relief…
Once we reached Schweighofen, the weather finally improved and we took advantage of the flight.
During the flight, I found that we were consuming too much but finally, once we refueled, we flew 3:00 and consumed 90 liters !
Is not that nice ? 30 liters/hour !
Verena that I met in Friedrichshafen welcomed us like princes, we rushed on Frankfurt sausages and a good beer for Philippe !
After cleaning the plane, we took possession of our rooms here on the field … and now we enjoy a gentle sunshine at the end of summer on the terrace facing the runway !
I admit being very tired of this first leg… I did not sleep well last night…
Happy to be there !
See you in Voslau tomorrow !
Valerie
Lady Bush pilot's departure
by Lady Bush Pilot
Dear friends,
Regarding the weather forecast for the next few days, I decided to anticipate the departure of the Flap 1 and take off this Thursday 7th September morning from Temploux to Tannheim.
As a reminder, this trip will take place in three parts:
Tryptic trip:
Flap 1: September 2017: Temploux -> Cairo
Flap 2: February 2018: Cairo -> Uganda
Flap 3: June 2018: Uganda -> South Africa.
After a few last minute stresses and a change of co-pilot, I feel ready to start this new adventure.
If you want to track my flights, you have two options:
By placing this link in google, you will arrive on my "inreach".
In the left column: click on "cartographic filters" -> date and time -> "most recent track" or "tracking in progress".
If you connect during my flight, you will see my speed, altitude etc.
Finally, I would like to express my heartfelt thanks for the sincere support and interest shown by many of you.
Keep in touch via pictures and comments!
Valerie