Flap1 – Part1 – Following the First Flights to the Levant – 09 09 2017 > 19 09 2017 – Belgium > Turkey
I took off in September 2017 from Belgium to Istanbul.
During this leg, I had engine problems during take off.
In Istanbul, I was grounded by the Turkish authorities during 2 months.
I took advantage of it in order to check my engine and instruments.
Want to read more? look at my blog …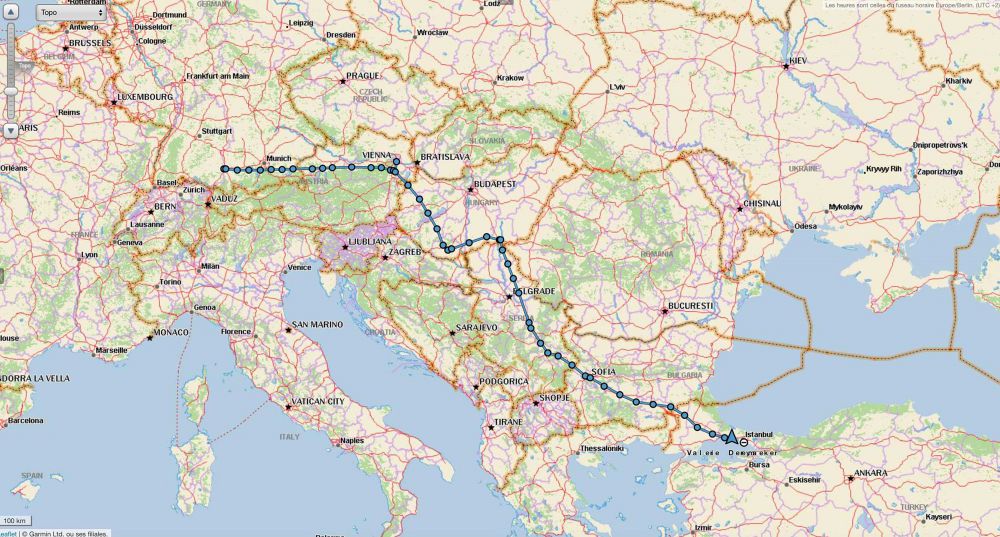 Day 1 – 7/9/17
Temploux -> Tannheim (Germany):
I love Tannheim airfield and the warm welcome of Verena. Rooms available on the field ! One of my best 3 airfield !
Day 2 – 8/9/17
Tannheim -> Voslau (Hungary): nice airfield south of Vienna, closed to Hungarian border.
Day 3 – 9/9/17
Visit of Vienna, I love the presence of art and music everywhere, the architecture, the town…
Day 4 – 10/9/17
Voslau -> Pec (Hungary): Nice airfield with both hard and grass runways
Pec -> Szeged (Hungary):
I loved that airfield with both hard and grass runways, ultra lights, gliders, aircrafts, nice welcome and great help! University town crossed by Danube. One of the best 3 airfield !
Day 5 – 11/9/17
Szeged -> Nis:
Strong headwind, great air controllers, Nis is Hell, I hate it and will never go back to Serbia.
Day 6 – 12/9/17
Emergency landing after take off from Nis. Find and buy new spark plugs.
Day 7 – 13/9/17
Test flight ok
Grounded by airport authorities who do not follow AIP and close the airfield at noon to noon next day, no PPR permitted even if AIP permit it!, avgas: 4.2€/liter! 35€/landing ! Just HELL !
Day 8 – 14/9/17
Nis-> Sofia (Bulgaria):
I love Bulgaria, the country fields with Antonov 2 everywhere, long final overflying Sofia is just amazing! One of the best 3 airfield !
Day 9 – 15/9/17
Sofia -> Çorlu (Turkey):
I love overflying Bulgaria, very nice air controllers, nice landscape, Antonov 2 everywhere ! 5 hours for customs at Çorlu !
Çorlu -> Hezarfen: Short flight in Turkey. Very nice approach in Hezarfen
Day 10 – 16/9/17
Istanbul: check of the engine with local mechanics.
Evening boat tour along the Bosphorus.
Day 11 – 17/9/17
Istanbul: visit of the city.
Day 12 – 18/9/17
Istanbul: check of the engine with Mustafa from Ataturk, boroscopy, etc.
Evening with Ambrose and his friends after Marcel's boat trip ! Great evening !
Day 13 – 19/9/17
Back to Brussels with commercial flight with my carburettor and my electrical harness…