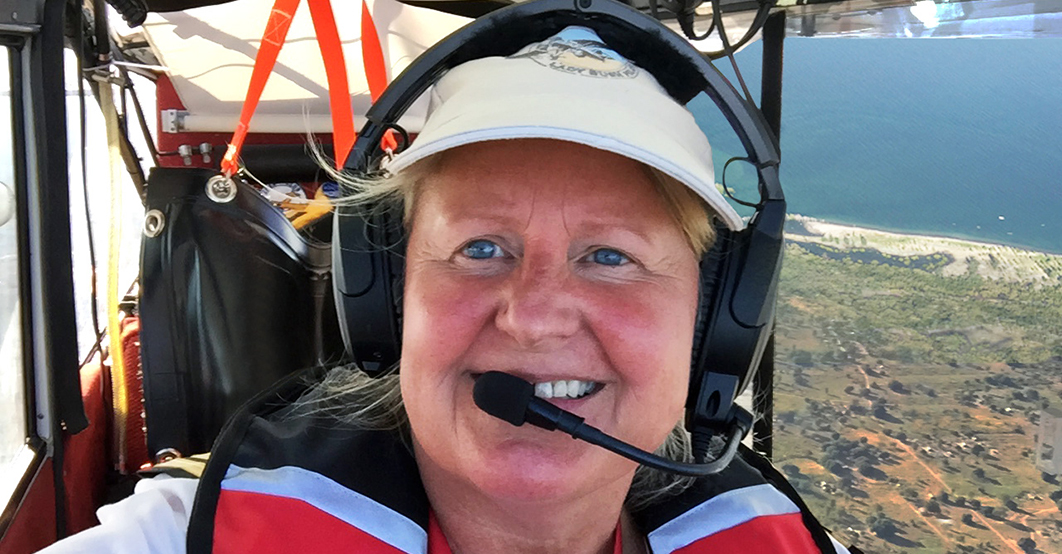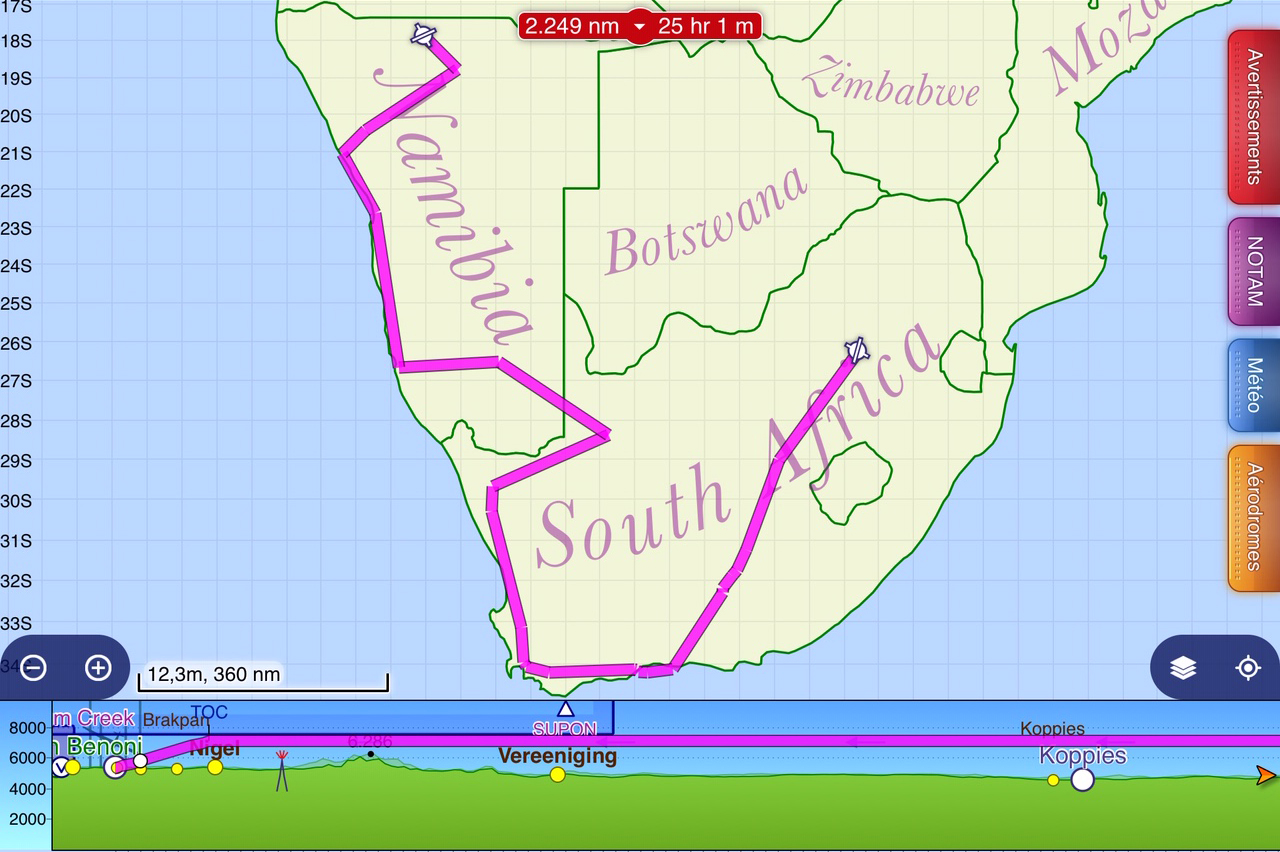 Flap4 – Heading North after reaching the far south !
The 15th October, I will fly to Johannesburg where my airplane is in a hangar since I left him the 13th July.
After annual maintenance and paper work completed, I will take off heading far south of the African continent and join Cape Town within 5 days.
From Cape Town, heading north, I will cross South Africa to join Namibia and reach Ondangwa where my plane will stay sometimes, allowing me to prepare Flap 5.
Le 15 octobre, je rejoindrai mon avion resté à Johannesburg depuis le 13 juillet dernier.
Après avoir effectué la maintenance annuelle et les papiers complété, je décollerai pour rejoindre l'extrême sud du continent africain et Cape Town.
De Cape Town, direction Nord, je traverserai l'Afrique du Sud pour rejoindre le nord de la Namibie: Ondangwa, où je laisserai mon avion le temps pour moi de préparer le Flap 5
Flap 4 completed in 13 flights, 30 hours 54
by Lady Bush Pilot
Flap 4 completed in 13 flights, 30 hours 54 and I have 600.00 hours of flight in my personal logbook
At Mokuti Lodge, I spent a very nice times especially during the 2 games drives that I made. I took splendid pictures and saw many giraffes, elephants, cheetahs and many others. The lodge was nice, the staffs very friendly and the customers were in majority germans.
I spoiled myself and offered me a massage at the Spa.
Yesterday morning, I took off from this isolated airstrip in the middle of Ethosha land meeting at the beginning of the runway some antilopes… what an amazing country, love it ❤️
The flight was awesome, I saw plenty wild life from my plane and a light tailwind pushed me to Ondangwa.
Ondangwa with an aircontroler ????, I am not used to aircontroler anymore ! He's the first one since the beginning of this flap 4, and waow what a runway !
Not used to it anymore neither !
I landed after an hour and 24 minutes of flight.
No one was expecting me but everyone was asking me many questions and to fill up many documents as if I were a commercial airliner… not used to it anymore…
I called the owner of the hangar where I am suppose to leave my plane and… what a disappointment nothing is ready (I called him 2 days ago already) an helicopter is on the way, the hangar has no front door (they feld few months ago and nobody repairs them), and it is full of bates and birds shitting everywhere. In one word a crapy hangar !
I feel really sorry to leave my plane who offers me so many nice flights in this awful, dirty place…
I have no other option, and a hangar is better than under the heavy sun !
I decided to cover it with something to prevent from the shits of the bates.
But I have time, I want to shower, need to find solution and I want to call the owner and tell him my way of thinking…
I rented a car and drove to my hotel.
I called the owner who wants to come and assist me to cover my plane…
Long story short: he came, I paid everything for bought of us to get access to the airside, bought some plastic sheets in one of his brother shop and received only promesses and nothing else !
My disappointment is getting worst.
This morning I went to the airfield and with the help of 2 young nice fire guys, we covered my plane and inflated my extra-tank with some compressed air to ovoid the 2 rubber sides of the tank to sticked together while empty.
I feel less guilty to leave N45458 in this hangar now.
The 2 fire-guys promised me to have a look to my plane from time to time and report to me. They look smart and I trust them.
I left N58 in the hangar with the helicopter until end of December… hope everything will go find !
I visited the Nakambale museum explaining how missionaries from Finland came here in the 1850's, the way they lived, what they achieved. They've been invited by the local king who wanted to get education for his people.
My guide was excellent and it was very interesting to understand where the people here are coming from…
It is 40 degrees here today and I feel quiet lazy… this is Africa !
Tomorrow is my last day here and I will work on my Flap 5 that is far to be ready !
On Friday morning I will fly to Windhoek -> Johannesburg -> Roma -> Brussels on Saturday late morning.
I want to thank all the people who helped me on my route during this trip, I will never forget them !
Let's keep in touch !
Satisfaction degree equivalent to the OAT (outside air temperature)
by Lady Bush Pilot
Satisfaction degree equivalent to the OAT (outside air temperature)
Following the advices of 2 local pilots yesterday at Swakopmund, I decided to take off with a 1500 ft ceiling regarding a pilot who just took off.
I took off from this nice sandy runway 35 and made a right turn to find my route.
Suddenly I was into the fog, the water streamed on the cockpit window and the visibility was… poor to be optimistic… I immediately started to descent… but where are the two high power lines they told me about ?
What 700 ft ? This is far from 1500 ft !
But the terrain is getting higher quiet fast ahead of me… no sorry I turn back…
then within a second I had a flash in my mind and saw the 2 pilots on the ground betting on me… if I was landing back or not… that image tended to go forwards, but safety first !
First hole of Murfy's law: the fog, second hole: the power lines, do not take a tird one ! Turning back, I saw a flat terrain and some more clear sky north east and I took that direction… i flew very cautiously just below the ceiling that was increasing step by step…
And suddenly, I felt a warm air entering the cockpit and the light became brighter and brighter, the fog was gone !
I took my cruise altitude and speed and headed the Pitscoppers (2 mountains).
The calm air starting getting bumpy and arriving between these two mountains, the wind became gusty, I reduced my speed and followed my route carefully.
After passing the mountains, the air became more smooth and I could take some pictures.
Slowly the temperature increased and the air became very bumpy, gusty and my GS decreased, patiently I continued my route for more than an hour.
Some miles before my destination, I heart some traffic arriving at Doro Nawas as well… they were landing 07, this is very strange but the wind can change completely of direction within few miles in this country, I must check…
I asked a pilot and he confirmed me the wind is coming from west !
Of course with a Cessna, they land any runway…
Now, I must descend… bumpy, bumpy descent, ahead the field, look at the wind: from west with crossed component… and gusty… left hand downwind, I have my altitude, I have my speed, base leg: speed, altitude, adjust the speed with the engine, final: windshield, adjust the speed, descend… flare… and kiss landing !????????
Backtrack, and stop at the fuel pump.
I must admit that my satisfaction degree joins the outside air temperature…
What a flight, what a landing! I feel happy and look at the view ! Woaw, I deserve to be here in the splendid lodge !
I immediately met Chico, my guide and Elisabeth and Hans who will be my mates.
Nice flight, beautiful landing, adorable mates, and an excellent guide in this paradise in the middle of the deep Namibia, that's a wonderful feeling of freedom, achievement and happiness… I am blessed…
We made a superb game drive and saw many desert elephants, we were all very pleased.
Elisabeth and Hans are so nice that I decided to stay awake a little longer and have dinner with them, and a glass of wine on the top, let's party tonight !
I decided to offer myself a extra sleep and will wake up at 06:00 ! What an extra sleep !
After this resting night in my exotic hut, I woke up and look outside: fog again ! ????
I waited until 7:10 to reach the airfield and prepare my plane.
The sky was getting better and better east side: where I will head !
I took off from this majestic place and follow my route between the mountains in an unstable air.
After a while, I saw the inverted layer and decided to climb to find the smooth air on top, anyway, I must climb forwards !
As predicted, the air was calm and smooth and I enjoyed the flight taking pictures.
My GS of 99 kt predicts me a flight of less than two hours…
Of course, the terrain is getting higher and I was back in the low layer but as the visibility wasn't so good ahead, I decided to handle the turbulences…
My GS felt from 99 to 88, than 82, and even 78 kt !
My ETA increased a bit and I surprised myself to become much more patient in this kind of flight.
As the flight became more and more bumpy, I reduced my RPM and my GS of course… the last 20 miles took hours ????
The airfield looks abandoned, very isolated and surrounded by forest.
Overflying the airfield, I can't find the windsock (I discovered it later while on the ground: into the bushes and big trees !)
I decided to land runway 06.
Like yesterday, same bumpy situation, windshields and as I noticed that only the first part of the runway is tar, I decided to land further on the gravel…
No, not so soon, not on the tar, security landing, some power, fly, fly, yes, here it is and… kiss ! ????????
Backtrack and park on a desert apron.
I should have call them, nobody's here… I feel very far from any life in this desert place…
Then, I saw a man, greeted him and without any problem, he called the lodge who sent someone to pick me up…
I definitely find the people I met during this trip very friendly, easy going, life is simple and cool…
Just imagine arriving on a french airstrip without notice…
I will stay here 2 nights before starting my last flight to Ondangwa.
Stay tuned !
Grounded by the fog at Swakopmund
by Lady Bush Pilot
It is 09:00 LT and I am ready for take off since 06:00 !
The fog is tick and I miss the bleu sky…
I am thinking backwards at my flight of yesterday and I feel quiet lucky that I haven't been in front of this kind of fog arriving from Sossusvlei… there was no other airstrip where to land on my route…
But let me come back to Keetmanshoop, I was in my room and a pilot who saw me at the desert airport told another pilot that I was there and he came to visit me! His name is Jannie and it has been a real pleasure meeting him.
Next morning he was there also to say goodbye at the airfield… that's a friendly goodbye…
He offered me a nice sticker and fixed my door that was not holding opened anymore…
I like this kind of unexpected meeting between pilots. This is the magic of the real adventure !
My flight from Keetmanshoop to Sossusvlei was really nice.
Quiet long between the mountains and the valleys in a bumpy weather sometimes but I am getting used to it.
Because of my evening safari at Sossusvlei, I know now that the herd of animals I overflew after taking off from Keetmanshoop was oryx, I recognised their white bottoms on the top of long legs.
Still didn't overfly elephants…hope it will come !
But the most extraordinary amazing and so beautiful flight was yesterday from Sossusvlei to Swakopmund overflying the red dunes and the most beautiful scenery I've never seen…
When I think of these local pilots who overfly this landscape every day… I wonder if they still appreciate it so much…
Landing at Swakopmund on white sand runway is very different to appreciate the height from the ground…should get used to it, it is like on the glassy water…
I followed Ronell (Billy's daughter)'s advice and made a small 5 safari into the dunes yesterday afternoon… amazing to see how much life there is in such unfriendly environment.
Some nice and friendly pilots just gave me another route via inland to reach Doro Nawas… if the fog is staying more time along the sea…
One thing I must remember: do not trust weather advices from local people unless they are pilots, they much of the time answer what you would like to hear and that does NOT help at all ! Only local pilots can understand how important it is to get the good weather information…
Stay tuned !
Took off from South Africa and landed in Namibia
by Lady Bush Pilot
Let me first explain why I have this delay to reach Namibia.
After I landed at Upington, I noticed that the weather will be very windy at Luderitz that I was suppose to reach 2 days after.
At Keetmanshoop, the first stop in Namibia, mandatory for customs and immigration, there is no fuel.
What airfield shall I reach with 2:30 autonomy of fuel reserve included from Keetmanshoop ? I decided to try 3 options :
Try to get fuel at Keetmanshoop
Wait tailwind and fly from Keetmanshoop to Mariental if they have fuel.
Fly through Botswana.
And I will not leave Upington before being sure of the option chosen.
I received the flight permit for Botswana in only few hours, the girl remember me…
The weather at Upington was very hot and very windy, I was thinking of my plane under this strong wind and strong sun on the apron…
I don't like breaking my rythme of flying… I prefer waking up every morning very early, fly and enjoy the rest of the day…
Staying at the same place for 3 nights is very long.
Hopefully the Brown's manor is a very beautiful place with very nice people.
Once again, it is because of Billy who's got a friend at Upington that we found the solution: Gert will send 80 litres of avgas at Keetmanshoop via one of his truck driving there !
While organising the fuel transfer, the weather improved and the wind change from north to south… that means tailwind to reach Keetmanshoop !
I took off this morning, after immigration and customs that have been a full adventure by themselves, I've never seen that before in any country: they asked me the serial number of my engine, ALL documents except insurance, it took half hour to complete all the procedure…
I am not sure I completed all good numbers by the way !
After take off, I've seen a herd of white animals but unfortunately I can't tell you what they were… it was about 30 NM outbound Upington, I guess there were no cows but wild animals…
The flight was awesome but COLD ????
Because the heating hose was burning my right foot and because I guessed I wouldn't need heat in the cockpit, Raymond disconnected the heat hose… this morning I regretted it !
I landed at Keetmanshoop, no trafic, no ATC, nobody, in the middle of the desert, it looks like a ghost airport…
Alfred, very helpful shows up and after immigration, customs, landing fees and parking fees, the fuel arrived ! Edouardo has been very helpful to refuel my tanks with 4 cans of avgas, well I should say 3 cans as the tailwind reduced my trip…
Plane refuelled, covered, secured, Alfred doesn't want to open the airport before 8:00 tomorrow , NO WAY !????
That means that I will be there at 07:45, prepare the plane, preflight inspection and take off around 08:00 hopefully… this is the time I like to land !!!
Tomorrow destination is Sossusvlei Lodge airfield. Approximately 2 hours of flight. They have fuel.
Stay tuned !
Left the Indian Ocean and meet the Atlantic
by Lady Bush Pilot
My flight with Luke and his Cherokee Arrow around the Cape of Good Hope and the Table Mountain was quiet unique.
I took splendid pictures with my Canon, you will have to wait a while to see them.
Luke made a touch and go at Cape town international airport, something unimaginable in Europe…
Next day, I took off from Stellenbosch early morning heading Kleinzee.
Just after take off, I felt the heat coming into the cockpit… very hot flight.
But beautiful flight !
It is time to named the seas and oceans that have been on my route since the beginning:
Mediterranean Sea : arriving in Turkey; I saw from far away the Black sea but turkish authorities didn't allowed me to overfly the Bosphore… too bad…
Dead sea and a flight bellow sea level for my birthday ????
Indian Ocean from Mombasa to Zanzibar and from Zanzibar to Tanzanian main land.
Malawi lake, I know it is not a sea but Malawi people consider it as one.
Indian ocean again at the south coast of South Africa with the very hot wind, I flew from Tsitsikama to Stellenbosch along the coast line.
Now, the Atlantic Ocean makes me think at Europe of course even if the colours are different.
At Kleinzee, I've been welcomed on the frequency by Rodney, a very nice guy who gave me a hangar.
He took me for a tour around the town which is an old mining one.
Unfortunately, since some months, some illegal diggers are digging everywhere and anywhere all around the city looking for diamonds.
It is totally illegal but no one is acting, the police is corrupted and the state of the isolated town is taking bad shape… no toilet, diseases, prostitution, criminality, drugs and alcohol are turning this nice and very quiet little town into chaos, making it looking like an after disaster town in a fiction movie… have you seen "Walking dead" ?????
However, Rodney took me along the beautiful wild coast next to the sea, the smell of the Atlantic is totally different from the Indian Ocean ! It smells Ostende !
After the sight seing tour, Rodney brought me to Petro's guest house and I received a very warm welcome from this adorable couple, Petro and Johan.
The afternoon passed very fast chatting together and sharing our experiences.
I had a very fabulous moment in this family.
I decided to take off before sunrise to get some more time without the strong heat… I took off at 5:45 LT, this morning for a beautiful flight above desert areas to Upington.
Once again, Billy helped me from Mossel Bay, trying to find a hangar for me and a guest house… thanks Billy !
My plane is on the apron under 40 degrees but covered…
Tomorrow: Namibia, ETD: 06:00LT for a 2:30 hours of flight to Kleetmanshoop.
Stay tuned !
The adventure is full of surprises
by Lady Bush Pilot
Ria, the owner of the guesthouse where I stayed at Graaff-Reinet, contacted her brother who's pilot who contact Billy, another pilot at Mossel Bay, my destination !
Billy is expecting me !
How nice South Africans are !
I took off the 23rd October from Graaff Reinet where I spent a splendid time, in a blue sky, light brise, beautiful weather.
Nice GS, I take pictures and enjoy the flight.
After having overflown the impressive mountains, some bumps but quiet normal, I thought, now I will enjoy the flight along the coast line and I hope to spot some whales !
It didn't last long before gusts of strong hot wind coming from the north started to play with me in this turbulent air.
I thought I should flight over the sea to find some quiet air… it was worst…
OMG I wish I were in the ground…
I checked my ETA in this strong wind, my GS felt to 60 kt! One more and a half hour to reach Mossel Bay where Billy is expecting me…
I checked my alternates airfields and one with 2 grass runway is at 10 NM back from my present position… I didn't hesitate long, make a 180° and reach the Tsitsikamma airfield quite rapidly.
But where are the runways ?
Where is the field ?
I can't find it !
I learned later that the farmer cultivated the field! No runways no hangar any more ! Thanks for the wrong information ! ????
OMG, I wish I were on the ground !
But where shall I land here ?
I turned back and headed west again, my next alternate is at 30 minutes of flight ahead: Plettenberg Bay, tar runway 30, look at the wind… 335… that a strong cross wind on tar runway…
I continued above the ground along the shore with a 60kt GS in a bumpy strong hot wind (40degrees !..) the air coming into the cockpit is so warm that I have the feeling to get the hot air coming out from the exhaust gaz in my face…
My lips and mouth are dry as if I were in a desert since many days without water… no I don't have water, but even if I had, I don't see how I could drink it !
I am approaching Plettenberg Bay airfield, happy that I will land but anxious about the strong cross wind… now that I had some times to get used to this very inconfortable weather, shall I continue ?? No my GS is too low, I will have to avoid Georges CTR via the sea… not a good idea, let's land here at Plettenberg Bay.
I overfly the runway, where is the windsock? Here it is! Straight horizontal and crossed!????
Overflying the runway, I noticed that the left side of the runway 30 is a nice green short grassed area, clean and flat…
Joining the left hand downwind in a hot bumpy air, the advices of Paul are coming back in my mind, what Aharale would tell me now ?
I try to be patient, calm and focus, I check my speed, shall I put flaps or not? Turning base, my height is good, my speed is fine, turning final runway 30, less bumpy, I put flaps, the grass left of the runway is calling me… and I made a kiss landing on the grass ! Pfffff, waow, proud of me… ok stay focus ! I want to go to the runway to taxi to the apron… taxi is NOT possible at all on the runway! Thanks ???????? To the grass area next to the runway, I reached the apron.
I immediately call Billy who is expecting me at Mossel Bay, he told me he will come and pick me up here at Plettenberg by car! He told me also: we never fly with hot north wind !
Billy suggest me while I am waiting for him to try to get in contact with Stew who should be in a hangar at Plettenberg Bay airfield…
I met Stew ! What a character this guy ! He was pilot at SAA, he flies acrobatic and he's one of the Harvard water skiing pilot ! OMG total respect !
Stew found me a hangar, he's afraid that my plane finish in the sea with this kind of wind !????
Billy arrives, what a nice and generous person! Many thanks to him and all his family who invited me during 2 days !
What is sure I will never forget this day and I will have stories to tell when I will be an old lady… ????
My days with Billy at Mossel bay were quiet full: I flew his Piper Cub Cruiser that I love! We spotted whales and whales and whales… amazing how many whales I've seen…
We flew with Billy's cruiser to Plettenberg Bay next morning and came back, with the 2 airplanes to Mossel Bay, we've been escorted a while by Stew and Barry who took many pictures in flight ! Thanks a lot guys !
We flew his PA28 late afternoon with Cecil his wife and Monica one of his daughters… nice flight ! Again many whales !
Because Billy is so generous and likes to control and assume what he undertakes, he decided to escort me to Stellenbosh…
He contacts some pilots on my way asking them to help me…
What a generosity !
Yesterday we took off at 6 from Mossel Bay and flew 2:30 to Stellenbosh.
Again I saw plenty whales along the shore, nice beautiful flight.
Landed at Stellenbosh, Billy's expectations were satisfied.
Malcom found me a hangar and as I lost a little door of a check hole of my right wing, he offered me one dedicated ! ????????❤️????????
Cyril came from Morningstar with 2 friends : Edge and Jaap who are planning a African tour flying trip! Really nice pilots! I enjoyed my time with all of these people around a nice table at Stellenbosh.
Thanks again to Billy !
I spent the rest of the day with Judith (Cecil's sister, Billy's sister in law) with whom I had a lot of fun.
Today I must organise my next legs about fuel and other stuffs, busy day !
This afternoon I will fly around Cape Town with Luke !
What a country ! I ❤️ South Africa!
Stay tuned ????????
My Graaff Reinet amazing experience
My Graaff Reinet amazing experience
by Lady Bush Pilot
I've been very busy since I am in Graaff Reinet.
I landed on Friday.
On Saturday, I studied the weather forecast and decided to stay until Tuesday to avoid the cold front and the strong wind at the south coast.
I thought for a time to change my route but that appears to be a bad idea…
I am loosing only 2 days on my schedule as I had one day good at the start.
Saturday morning, I collected my rented car and drove to Nieu Bethesda a charming old little village still living in the 19th century…
I discovered Helen Martin's story and house, something quiet different than expected… I ate some Kudu's salami with local homemade cheese for lunch… full immersion into the deep Africa !
Coming back to town, I stopped at the airfield just to check my plane ????
At the afternoon I made a safari with David and we saw many animals.
Here, safaris are quiet different from Kenya or event from Botswana.
There are plenty sorts of antilopes, Ostriches, Kudu, Black wild beast….
After a while, David brought us to the valley of desolation … we had to climb on the top of the mountain and the strong cold wind reminded me why I was staying here at Graaff Reinet !
Back at Ria's guest house, I was frozen, took a hot shower, alighted the electric blanket and tried to warm up in my bed…
Isn't it amazing to get so cold in Africa ?
Sunday morning, I went with Neko for a walk into the township.
We started by the church ( normal for a Sunday morning ????), the songs of the children and the deep atmosphere of contemplation touched me deeply.
I wish I could stay longer into the church but my guide invites me to follow him out and crossing all the township we met different people with whom we had some chats.
He sang a click language song that I recorded ! just amazing !
Back to town, I visited 2 museums showing the life of the dutch people who lived here.
At the afternoon I made a safari alone with my car and I discovered many animals…
A couple of ostriches was mating… waving their elegant "french cancan" wings made them look like some prehistoric animals disguised for the parade…
This morning, I visited the last museums, how come a small town like Graaff Reinet can compte so many museums ? This area is very rich about history and it is good that people remember all of it.
If I must summarise my Graaff Reinet experience in 5 words, that would be:
Extraordinary nice people
Geological background
Boer war and dutch history
Beautiful scenery
Wild life
I will be quiet busy this afternoon preparing my trip.
ETD tomorrow: 06:00 LT to Mossel Bay.
Stay tuned.
Back in the african sky
by Lady Bush Pilot
I took off yesterday (18th October) from Springs (east of Jo'burg) from 5360 ft ! Density altitude more than 7000ft ! First time in my life !
Climbing rate very different than usual you can imagine !
Once at my cruise altitude I overflew the airfield and have shaken my wings to greet my engineer team on the ground.
The air is smooth and the visibility ok, I am feeling free and enjoy that moment back into the freedom kingdom.
After a wile, the visibility is decreasing, i am flying in a dense and brownish air unappealing but still in contact with the ground.
As soon as I left the Jo'Burg TMA, the sky appeared clear again.
Bright light, nice landscape, just enjoying the flight.
After more than one hour, thermals appear and I am surprised because it's only
9:30 am… but I forgot the the sun rise at 5:28 LT… must do the difference…
Eventually I reached the entrance of Bloemfontein Tempe zone and switch the frequency. Still air to air information, a nice pilot gives me the local QNH and the runway in use.
On downwind I hardly distinguish the very narrow runway: 11 metres wide, the exact width of my airplane!
Once at the fuel station, I am warmly welcome by Wikus, a «gentlepilot» who will take care of me all the rest of my time in Tempe. So helpful, interested, a real passionate pilot. I take the chance here to thanks him again, his help has been more precious than the one of any handling agent, he is a real friend !
About real friends, I must mention all the work that has been done on my plane by Raymond who came with me from Belgium to make the maintenance.
We had to change the battery and Jacques who took good care of my plane during the time I was back in Belgium found an excellent new battery at a incredibly good price !
I want to thanks again Gavin who offered me a place in his hangar since July, Jacques for his good care and good advices, all their staff, and Steve for his advices about my route.
This morning, Wikus, as a perfect gentlepilot, came to pick me up at my hotel at 06:00. I decided to wake up at 5:20 like I did during all flap 3, taxi at 6:00 and take off at 07:00 but I will try to advance all the timing of 30 minutes as the sun rises very early.
I took off with a high density altitude and Wikus recorded my take off… you will notice how long is my rolling!
After take off, I flew at 1000 ft AGL in a very smooth air with a GS of 94 kts.
The landscape offered me such magnificent views that I couldn't stop recording, taking pictures…
I noticed some lenticular clouds on a top of some hills and predicted wind and turbulences…
My prediction was right and the thermals above the hills very strong. I thanks my personnal coach to trained my biceps !
For a while the calm came back just the time to prepare my arrival at Graaff Reinet.
Nobody on the frequency, nobody on the field, I overfly the windsock and chose runway 22. The wind is not really strong but gusty. It is approximately in the runway axe…downwind, baseleg and final…but on final, I do not descend anymore, the thermals are so strong that I climb, idle and nose down !!!!
Once above the asphalt of the runway, it was worth… difficult landing and not nice… I still have to practise in this country !
Marius, who has been contacted by Wikus, is here ready to refuel my plane as promised.
I explained him that I saw a front coming and that I am not sure to take off tomorrow. He immediately confirmed my weather forecast and discouraged me to fly in such dangerous weather.
As I always listen to the local persons advices, I decided to stay here 2 nights but now, I know it will be 4 because of this cold front.
I am in a splendid guest house managed by Ria, very kind lady who came to pick me up at the airfield.
The little town is adorable and looks like a Dutch town.
After a deep briefing with Wikus, my South African Ground crew, I decided to wait here until Tuesday and continue my route as planned.
I will rent a car tomorrow and David showed me the safaris that I can do by my own.
There are museums and a little town not too far that has to be visited…
I will have also some times to write.
Stay tuned !
Preflight maintenace and checks
by Lady Bush Pilot